The Music Festival Essentials You Shouldn't Leave Home Without, According To Shopbop's Fashion Director
Christian Vierig/GC Images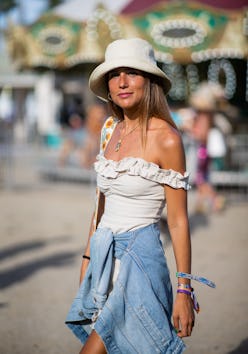 Summer may not be here just yet, but music festival season is already in full swing. From Lollapalooza in Chicago, to Firefly in Dover, Del., the year is lined up with back-to-back concerts. And though yes, festivals are a way to celebrate artists and enjoy your favorite bands live, it's also an opportunity for fashion lovers to try out some outfits they might not normally wear in their day-to-day. But though it's a great chance to experiment, knowing what to bring to help you survive the weather, long hours, and crowds can be tricky. Thankfully, Shopbop put together a handy spring break packing guide with a few suggestions, and Caroline Maguire, Shopbop's Fashion Director, shared a few of her own music festival packing essentials with The Zoe Report, too.
Though you probably won't leave with just one outfit in your suitcase (because what's the fun in that?), it's important to have a go-to you can rely on to keep you comfortable and cool. For Maguire, it's a simple one: "Statement sneakers, cut-off denim shorts, [and a] knotted up graphic tee," she tells TZR in an email. Once you have that decided, you can add onto those essentials with a few pieces that'll let you easily mix and match while helping you survive the heat. What exactly does that entail? Read on for a complete list.
A Printed Dress
Outdoor festivals typically come with high temperatures and lots of sunlight, which means you need a few pieces that will help you survive those elements. According to Maguire, there are two pieces that will do the trick. "Cool statement sunnies to shield the strong rays and an easy printed dress — [the] perfect outfit combination to have in your luggage to throw on!"
Statement Sunnies
Protect your eyes from the glaring sun with a pair of sunnies, as Maguire suggests. Throw a statement pair (or two) in your bag to have with you at all times of the day.
A Denim Jacket
Yes, it's hot during the day at music festivals — but what about when the sun goes down and the temperatures dip? "The perfect denim jacket that you can throw on with any outfit" is a great transitional piece to pack in your suitcase, according to Maguire.
A Graphic Tee
Knotted graphic tees are an essential element in Maguire's go-to festival outfit formula. Make a statement with yours and try out a festive band tee, printed tie-dye, or a summery graphic.
A Duffle Bag
If you're an over-packer (understandable, options are important), but don't want to lug around a bulky suitcase for the weekend, take notes from Shopbop's spring break packing guide and grab a sleek duffle bag.
Cut-Off Denim Shorts
Cut-off denim shorts are part of Maguire's go-to music festival outfit formula, and with all the options out there, they make for an easy way to add some pizzazz to your outfit while keeping cool.
Statement Sneakers
You have to be choosy when it comes to your footwear thanks to the amount of space they take up in a suitcase. Maguire's suggestion? "Sneakers!" she says. "You want to be comfy and cool — so opt for a pair of standout statement sneakers. [They're] easy to throw on with denim or a casual dress."
Cowboy Boots
Can't live with just one pair of shoes? As Shopbop's spring break packing guide suggests, a pair of cowboy boots are a great option to bring along. Given their recent popularity, they'll be right on trend; plus, they're a great way to protect your feet from the large crowds.