Dr. Barbara Sturm Launched Its First Toner & It's Exactly What Your Skincare Routine Needs
ImaxTree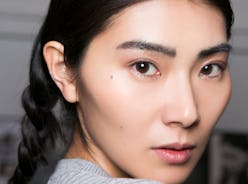 Cleanse, moisturize, SPF — you may think you've got your daily skincare routine down pat, but perhaps there's actually something missing. If there were a product you could use to ensure your skin is prepped to receive all the hydrating goodness of your go-to moisturizer, you'd want to give it a try, right? Well, get ready to revamp your regime, because Dr. Barbara Sturm's Balancing Toner is officially here, and bound to become an instant favorite on beauty shelves everywhere. Do yourself (and your skin) a favor and snag a bottle now.
If you've ever wondered how celebrities and style stars manage to maintain such youthful, glowing skin, more often than not the answer may be Dr. Barbara Sturm's line of incredibly effective skin care. From top-rated serums to deeply hydrating masks (like Victoria Beckham's favorite for travel), the scientifically-developed range has everything you need for a results-driven, radiant-complexion routine. And now, the brand is adding one more must-have you'll want to add to your lineup, stat.
The brand-new Balancing Toner, $75, officially landed on Dr. Barbara Sturm's website on March 12, and it's here to take your skin-cleansing routine to a whole new level. The gentle, mild formula was created for daily use and with every skin type in mind, so sweeping it across your face morning and night won't leave your skin feeling stripped like some toners can.
In fact, this conditioning toner is meant to restore balance to the surface of your complexion, by stabilizing the natural pH of your skin that may have been altered by your sink's water during cleansing. The alcohol-free formula removes buildup and pollution that washing your face with tap water may leave behind (yikes), as well as whisking away any remaining traces of makeup and impurities. This way, your face is left fully refreshed and ready to soak in the benefits from the next steps in your routine, like an antioxidant-rich serum and rich moisturizer.
And because the Balancing Toner works to remove excess oil buildup, you may also see a reduction in the appearance of pores, so your face looks more even. Meanwhile, an extra boost from hyaluronic acid means your complexion gets plumped on a cellular level, further smoothing and hydrating your skin before you've even gotten to the moisturizer step in your regime.
The toner also leans on soothing active ingredients, like beta-glucan and panthenol, that tame irritation and take down redness — so it's a toner that's great for sensitive skin, too. Apply it all over with a soaked cotton ball, from your face to your neck and décolleté, to ensure each area is feeling back to its natural state.
Below, shop the skin-balancing product you never knew you needed from Dr. Barbara Sturm, and get ready for an even happier, healthier complexion than ever before.