Why Dermalogica's New Redness Relief Essence Is Worth Adding To Your Skincare Routine
IMAXTREE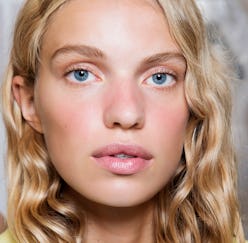 At this point, you're pretty much over winter. Your skin, more than likely, is right there with you, showing all the telltale signs that it's feeling irritated, exhausted, and in need of saving. And before you start feeling hopeless, having tried just about everything to cure your complexion, Dermalogica's Redness Relief Essence is here to help. The super-concentrated essence just may be the sensitive-skin saver you never knew you needed (now, more than ever).
If you've got sensitive skin, you know that keeping it calm and under control is a serious undertaking, especially in the harsher seasons that seem to do more harm than good. And if your complexion feels completely out of balance, despite your efforts to ease irritation with gentle cleansers, toners, and masks, Dermalogica's new calming essence could be exactly what you need to try.
The cult-fave skin wellness brand released its Redness Relief Essence on Feb. 7, as the latest edition to its UltraCalming line that's geared towards relieving irritation and restoring hydration to sensitive skin. The $42 skin-soothing product is chock-full of calming ingredients, not unlike like a serum, and feels lightweight like a toner — but it's neither, because it's an essence.
If you're unfamiliar, you can think of the under-the-radar skincare category like a primer for the rest of your skin regime. Despite its liquid formula that makes it look like a toner or cleansing water, the primary purpose of an essence is to deliver moisture and nourishment deep into the skin. And that's exactly what Dermalogica's Redness Relief Essence promises to do.
The brand new essence, formulated with sensitive skin in mind, uses natural ingredients like licorice root and vitamin E to take down redness and calm irritation. Simultaneously, aloe vera and sage extracts restore hydration levels and reinforce skin's natural moisture barrier, so it's protected from future discomfort. Basically, the supercharged essence instantly serves up exactly what your sensitive skin needs, in a formula that can quickly and deeply soak into your cells.
Using Dermalogica's essence is super simple, too. After cleansing, dispense a few drops into the palm of your hand, then gently pat it across your face, neck, and anywhere else in need of relief. Once it's had a chance to absorb, continue with the rest of your routine by following up with a rich moisturizer or a skin-soothing facial oil.
Ready to give your skin a cure for redness and irritation? Shop Dermalogica's new essence below, and head to the brand's site for the rest of the UltraCalming line.