Louis Vuitton's Miniature Candle Set Takes Home Fragrance To A New Level of Luxe
Louis Vuitton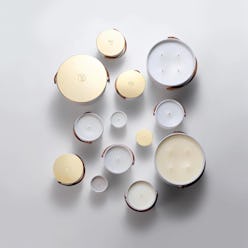 Even if you're thrilled by the idea of cozying up at home for the holidays, spending days on end huddled up inside is enough to make just about anyone feel a little stir-crazy. The trick to keeping warm and cozy, without crossing into cabin fever territory? A transportive candle or two that can conjure up thoughts of exotic, far-away places (and much warmer weather). And that's where Louis Vuitton's set of miniature perfumed candles come in with the three luxurious scents to transform your spaces.
If iconic the French house is known for anything, Louis Vuitton's signature trunks (monogram and all) are certainly it. The brand's foundation in travel is indisputable — so it's no surprise that its line of fragranced candles, which first launched in 2018, is focused on evoking specific places and snapshots of seasons that you can experience in your home year round.
And just when you'll be spending a lot more time snuggled up at home, by choice or because of unfavorable weather conditions, Louis Vuitton is bringing you fresh additions to its incredibly luxe candle collection to make your space feel cozy and smell like somewhere else entirely. Plus, it doesn't hurt that they look incredibly chic.
The set of Miniature Perfumed Candles, $275 on Louis Vuitton's site and at select brand boutiques, includes three of the candle line's original fragrances: L'Air du Jardin, Île Blanche, and Dehors Il Neige. While the first and second fragrances will transport you to warmer times in a bucolic floral garden and a citrusy-scented seaside town respectively, Dehors Il Neige recreates the cheery atmosphere of a luxury ski chalet in mid December. Switch up which one you burn each day depending on your mood — or share one as a generous hostess gift at a holiday party.
But that's not all Louis Vuitton is bringing diehard candle lovers this season. The brand is also adding two new scents to its line, En Mai and Écorce Rousse, yours for a cool $185 each. The ultra-luxe candles conjure up a trip to a bright spring destination with En Mai and a visit to Louis Vuitton's historic leather atelier in Asnières, France with Écorce Rousse, effectively making your home smell anything but commonplace. Playfully colored wicks hint and the aromas inside; purple indicates En Mai's bright dose of blackcurrant, and Écorce Rousse's saddle brown wick brings to mind its leather and wood notes.
Shop Louis Vuitton's exotic new candle additions, below.