Louis Vuitton's New Candles Are Almost Too Beautiful To Burn
Courtesy of Louis Vuitton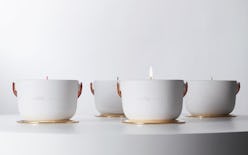 Since the first person shared a photo of their makeup brushes collected in an empty Diptyque candle glass, luxury candle sales have been — excuse the pun — on fire. But if you've been hesitant to splurge on a high-end candle, wait just a little bit longer — because Louis Vuitton's beautiful new candles are launching Nov. 5.
The premier release will feature four scents, each created by master perfumer Jacques Cavallier Belletrud, who drew inspiration from the outside scents that travel into homes on breezes. The collection is only the first release for Louis Vuitton's new candle line, with plans to continue to expand candles as a new category for the celebrated brand. World travel also play into the scents and can be found in the candle names: "L'Air du Jardin", "Île Blanche", "Feuilles d'Or" and "Dehors Il Neige". The 220 gram candles will be available on Louis Vuitton's website and in select stores once released for $185.
Many of the scents are classic candle smells taken to new heights by Belletrud. "L'Air du Jardin" is inspired by spring and the smell of Provençal roses, with Belletrud's expertise leading him to tackle the challenge of creating a rose-scented candle — a smell that can often be syrupy sweet or completely dull — by exhibiting a light touch. "Île Blanche" is the collection's take on the varied island scent, and is noted to be anchored in fresh tea, with citronella, vervain, and jasmine sambac also in the mix. Walking through the forest inspired "Feuilles d'Or", which combines patchouli, Virginia cedar, and incense to mimic the crisp feeling. Finally, star anise, cinnamon, and clean scents are in the wintery "Dehors Il Neige", which ends with a raspberry note.
The candles get their minimal look thanks to Marc Newson, the industrial designer behind Louis Vuitton Fragrance's simple glass bottles. The ceramic containers' wide brims allow better scent diffusion as well as make the candles practical keepsakes once totally burned. Focusing on the object's overall functionality also lead to riveting leather handles on each candle — a clever move that lets owners carry the candles without accidentally scuffing up the clean white porcelain. Calling it now: You will see empty Louis Vuitton candles hung by the leather straps as planters on interior decor blogs next spring.
There are also small details to the luxury candles that exist simply to wow you. Each scent has its own designated wick color, painted by artisan wax makers in Grasse; a fleeting detail that will vanish after the first burn. And if the candle's minimal take on Louis Vuitton's usually maximalist logo is too subtle for your taste, take note of the leather handles, which feature Louis Vuitton's signature yellow stitching and red edging.
With all eyes on the brand's bold Virgil Abloh release and recent street style-focused personalization options, the addition of candles to the home décor lineup is only one creative step of many that Louis Vuitton has taken in 2018. It's time to start guessing where the French fashion house will go next — and if it seems like a wild idea, you're probably correct.