The Brand Behind Those Cult Headbands Just Launched Bags & They're About To Go Viral On Instagram
Courtesy of Lele Sadoughi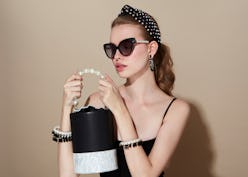 When it comes to dressing for the holiday season, there's the person who likes to dress to the nines for every occasion, while others prefer to keep it more low-key. Depending on your personal preference, chances are you fall somewhere in between. That said, if there's one thing many can agree on, it's that a stylish set of accessories can instantly dress up any ensemble. Lele Sadoughi knows this, which is why the cult accessories brand has expanded into handbags.
The Lele Sadoughi brand has become known for its statement-making, cult-favorite (and Blair Waldorf-approved) headbands. Now, the accessories label is bringing its luxurious touch of whimsy to handbags. And yes, these new bags are just as good as everything else the brand makes.
The New York-based accessories label launches into the new category with three signature silhouettes that feature details synonymous with Lele Sadoughi's other pieces like stone beading, acetate components, and bold, vibrant colors. To top it off, each style is available for customization exclusively on Lele Sadoughi's website — which means you can pick out key details like the color and design embellishments on the strap to make sure the bag meshes perfectly with your wardrobe.
If you're looking for a sleek, modern option to wear for everyday occasions, opt for the Charlie — a leather barrel bag, which can feature the on-trend croc-effect print or a bold color like Kelly green. For those of you who want something that feels like the ultimate statement, go for the Dallas. With the combination of its classic bucket shape and acetate bottom, this particular style will feel like a work of art with all of our ensembles.
Anyone who loves a structured, boxy bag will obsess over the Brooks, which is a playful, triangular-shaped acetate bag that'll be perfect for your next night out. Get yourself the tortoiseshell version with a matching chain link strap, or opt for something else to create a unique contrast. And if you just can't get enough of, you can also buy them separately to swap them out whenever you want. Or, you can add them onto any bag you own.
Lele Sadoughi's bags range from $295 to $495. If you're ready to start shopping we've selected a few favorites below, or you can head over to the brand's website and start customizing your next favorite bag.