Lele Sadoughi's Insta-Famous Headbands Just Got A Very Summery Makeover Thanks to This New Collab
COURTESY OF LOVESHACKFANCY X LELE SADOUGHI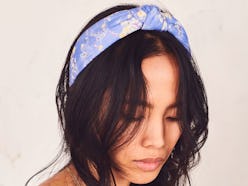 What happens when a ready-to-wear brand known for its whimsical, feminine prints joins forces with the designer responsible for creating arguably one of the most popular hair accessories on Instagram right now? A dreamy collection of headbands, of course. But really, would you expect anything less from a LoveShackFancy x Lele Sadoughi collab? Probably not. And boy, did this union of fashion-girl favorites deliver some seriously stunning results.
Launching on June 4, the collaboration includes a range of headbands you'll be eager to scoop up for all your summer events. In total, there are twelve headbands — seven knotted styles for $85 each and three padded silhouettes priced at $95 a headband. Additionally, there are two petite knotted headbands for any little ones in your life.
So how did this partnership you didn't know you needed until now come about? Both based in New York, LoveShackFancy's founder Rebecca Hessel Cohen and accessory designer Lele Sadoughi connected on a personal level. "Rebecca and I met at school, since our eldest children are in the same class," said Sadoughi in a press release from the brand. "We would drop off our kids in the mornings and talk fashion. I would see Rebecca in her long, flowy dresses and she always commented on my beaded headbands and floral earrings. I have made so many jeweled versions, but this is my first time making printed floral versions."
Those who are partial to the detailing of Lele Sadoughi's classic hand-knotted design can choose between six different (but equally pretty) floral LoveShackFancy signature prints: Bluejay, Pink Gem, Ballad Blue, Maybell, Sea, and French Cream. Or, you can opt for the blue and white striped iteration for a nautical feel. If you prefer more of a simple, clean look, shop one of the padded styles. In addition to also being available in Bluejay, this silhouette is featured in two other fabrics called Pink Romance and Viola.
Have an outfit that needs a little something extra? Slip on one of these headbands to complete your look. Any of these styles can be paired up with everything from a simple jeans-and-tee combo to wedding attire. That said, you can really dial up the romantic vibes when you match up your headband with one of your floaty white summer dresses.
Given the love headbands are receiving right now from the fashion crowd and the popularity of these two brands, there's no doubt these styles are going to start popping up on your feed in no time. So on that note, continue on to snag a headband (or two) before everyone else.