The Statement Purse Trend That Keeps Popping Up In Spring's New Arrivals
L'Afshar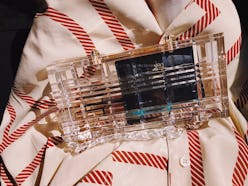 By now, you've probably already done a fair amount of research for the next round of It bags to surface in the coming months — especially when new styles have been debuting during the major fashion weeks. Most of these bags, while eye-catching and unique in their own rights, are still typically envisioned as handbags for everyday use. But for the special times when you want to carry a true statement-maker of a purse or clutch, the new acrylic and Lucite purses hitting stores are exactly what you need.
Don't be mistaken: There will always be a place for classic leather handbags in any and every woman's wardrobe. That said, there are the occasional moments when you might be looking to mix it up, especially for formal events, and this handbag trend is bound to catch someone's attention. Better yet: It's Instagram-friendly, too.
Though you may be quick to associate Lucite and acrylic (also sometimes referred to as resin) pieces with the wave of quirky and endearingly cute accessories that's been making appearances nearly everywhere, there's something about the material coming in the form of a purse that makes it feel utterly chic.
Show off what's in your bag with the luxurious crystal clear Lucite Grace with Chain, which has a variety of chains to choose from and costs $1,020 from L'Afshar. Or, if you're looking for something to wear for your next wedding, LALA LÉXA's Victoria clutch has a beautiful chevron pattern on it. The piece, which costs $480, is also available in vibrant shades of pink, blue, green, as well as black and gray.
When you don't want to bare it all — inside your bag, of course — acrylic purses will be perfect for both day and night. This Stelis Tortoiseshell Acetate and Silk-Satin Tote from Montunas has a visual appeal that makes it ideal for carrying from the office to happy hour and costs $350. And when you want to add a pop of color to your wardrobe, sport the Valet Studio Edie Resin Bag, which comes with a top handle as cool as the purse itself.
Whether you're looking for something to wear to complement your next black-tie ensemble or something you can take with you to weekend brunch and beyond, these bags will instantly dress up your look. Now, scroll down to shop more acrylic and Lucite bags to add to your wardrobe.