Need A Style Refresh? Follow These 10 Under-The-Radar Trendsetters
WWD/Shutterstock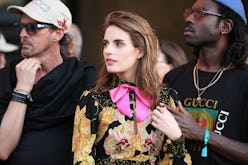 Everyone has a style crush. It may be an icon that defined an era like Kate Moss or Jane Birkin or perhaps a celebrity like Rihanna or Kate Bosworth or even an Instagram influencer à la Aimee Song. If you're interested in fashion then you inevitably have a roster of women you turn to for inspiration when figuring out what to buy or wear. More often than not, it's the cool, non-traditional fashion girls with more nuanced taste that offer the best style inspiration on Instagram and beyond; In major part because they offer a point of view that doesn't look like everyone else's. Some of these women are artists, others are actors, but whatever their profession shakes out to be it's their unique approach to clothing that makes them such a fitting subject for conversation.
If you've yet to nail down a personal style muse and are open to the idea of turning to someone who feels more under-the-radar, then the 10 women below should pique your interest. Ahead you'll discover who these ladies are what makes their looks worth imitating. From the leader of a dance squad who has a penchant for nostalgic dressing all the way to New York-based DJ with some serious night-out flair, continue to see and shop your way to a more interesting wardrobe.
Аna Kraš
Kraš is a force to be reckoned with. Hailing from Serbia, this gorgeous New York-based artist is a furniture designer, photographer, and all-around talent who's style is a mix of '90s nostalgia and well-traveled eclectic. Her Instagram account is a good place to start if you're curious about her personal style (@teget) but keep an eye out for her in other sartorial happenings as she tends to pop up during fashion week in oh-so-cool looks.
Gabriella Karefa-Johnson
Though Karefa-Johnson is technically part of the fashion industry (she's the Fashion Director at Garage Magazine) her splashy, eccentric style isn't covered in street style nearly as much as it ought to be. Go to her if you're looking for ways to make your outfit pop or even if you're curious about interesting ways to mix and match prints.
Chloe Wise
There's a reason artist Chloe Wise has 151k followers on Instagram — she's got a great sense of humor that translates online and IRL. Give her a follow to keep up on her paintings and to see how she styles pieces from cult-cool designers like Collina Estrada and Puppets and Puppets.
Annabelle Dexter-Jones
This actress and It girl is the kind of fashion inspiration who you don't see everywhere, but when she makes an appearance it's worth the wait. Her style feels like a nod to Parisian taste with cool New York-inspired sensibilities.
Jo Rosenthal
Rosenthal is a young model based in New York who has been popping up in a slew of designer's lookbooks and campaigns. Her refreshingly vulnerable personality, and eccentric sense of style are both reasons you should keep an eye on her in the months to come.
Greta Lee
If you watched Netflix's Russian Doll then you already know why Lee is on this list. Her style feels reminiscent of designer Rachel Comey in the sense that it incorporates cool silhouettes and color palettes that always eschew tradition and lean toward a more individualized aesthetic.
Angela Trimbur
Trimbur is an actress and captain of the LA City Municipal Dance Squad (so cool, right?). She also documented her journey with breast cancer over the last year and in doing so revealed her wardrobe full of covetable pieces, like vintage Laura Ashley dresses and other playful separates.
Phoebe Lovatt
This London-based writer and moderator has style the speaks to an sportswear, downtown-inspired aesthetic. If futuristic sunglasses and neon sports bras sound appealing to you, take a look at Lovatt.
Enya Mommsen
Mommsen's delicate, subtly-cool features are what make her style so worth taking note of. The New York-based model, photographer, and artist is the epitome of downtown cool and though she's on the lesser-known side, it'll be zero surprise if you see more of her in the years to come.
Sam Taylor
Taylor is a member of the female music agency Les Filles and is a DJ in New York. Her style is a fresh mix between disco and streetwear, which means if you're looking to up your after-hours ensembles she's a can't-miss.