ColourPop Launched A Massive New Collection For Its Birthday & It's Everything You Need For Summer
ColourPop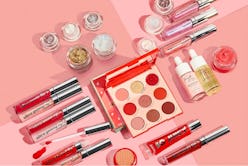 Birthdays are fun. Sunny summer days that slowly turn to warm, sultry nights, also fun. Shopping for brand-new beauty goodies? Yep, add that to the list. So when you combine all three, that's as sure a sign as any of a really good time. Enter ColourPop's Watermelon Collection, a big, bright launch in celebration of the brand's fifth birthday — and it's bursting with juicy, punchy products that are perfect for the summer season ahead. Be warned, these fresh buys are so fun you'll want to snag them all.
It seems like just yesterday then-new-brand ColourPop came onto the scene in 2014 with its swiftly-growing collection of super-pigmented, not to mention incredibly affordable, eyeshadows. The brand has accomplished a lot since its birth five years ago, from expanding into several categories (most recently introducing a quality mascara at only $8) to finding its way into some of the beauty industry's most popular stores. So it only seems fitting that to celebrate its fifth year creating affordable, effective beauty buys, ColourPop would introduce a slew of sweet, fun new products just in time to kick off summer.
ColourPop's celebratory launch, the Watermelon Collection, appropriately hits the brand's site as the start of summer draws near and you'll surely be having your fair share of the juicy stuff at barbecues and pool parties galore. The big, bright, and bold collection gets its inspiration from the popular summer fruit, so your beauty routine can get in on all the fun you'll be having this season with a burst of beautiful color and no shortage of sparkles.
Know right away you'll want the whole thing? Scoop up the Big, Juicy Birthday Collection, a $145 kit that comes with all of ColourPop's watermelon-inspired birthday celebration goodies. In it you'll find the brand's newest eyeshadow set, the Main Squeeze Shadow Palette that includes nine juicy shades of red that range from cool corals to rich crimsons. The palette, $12 on its own, holds five matte colors and four metallic shades, so you can create countless looks fitting for any summer occasion.
The collection also includes several of ColourPop's cult-loved products in new shades and combinations, like the brand's Glitterally Obsessed glitter gel and multiple lip products in Ultra Matte, Ultra Blotted, and gloss formulas. If you love glitter, go for the Star Gazing Mini Trio Kit, $12, that comes with three shades of the ultra-fine glitter gel, or grab one of three Gliterally Obsessed and Supernova Shadow Combinations, $12 each, that combine summer-ready colors you can use on your eyes (the Dear Summer Kit is a can't miss choice).
Show your lips some love with the collection's watermelon-hued lip kits, like the $12 Out Of Your Rind duo of hot fuchsia matte lipstick and iridescent pink gloss, or scoop up the plumping and hydrating Big Slice So Juicy Plumping Gloss, $7 in a punchy shade of red-pink. And since your skin deserves some TLC too this summer, the Best Served Chilled Kit, $24, combines Fourth Ray Beauty's bestselling Watermelon Seed Face Oil, a brand-new Watermelon Face Milk, and a yummy lip scrub to smooth your pout.
It's not often on someone else's birthday that you come away with a gift, but in the case of ColourPop the exception certainly makes sense (and is more than appreciated). Keep scrolling to shop all the sweet summer buys, below, before they're gone.