Everything You Need To Know About ColourPop's New Category Debut
Courtesy of Colourpop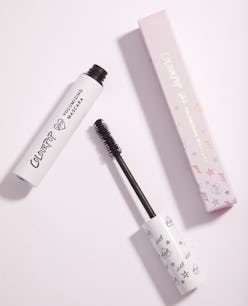 If you count yourself amongst the bevy of beauty obsessives that love ColourPop cosmetics, you're going to want to sit down before reading this exciting piece of news. The cult-fave makeup line, beloved for its range of high quality, affordably-priced products, is expanding into an entirely new category: lashes. That's right, ColourPop mascara is coming soon to complete your makeup collection — and you don't have to wait much longer, because the brand just pushed up its drop date.
Just when you thought ColourPop's line couldn't get any better (it recently dropped this $7 velvety lipstick that feels so luxe), the brand gave fans something else to go completely giddy about. ColourPop is launching its first-ever mascara, and just bumped up the drop date to Jan. 24 — one day ahead of its initially planned release.
The brand-new category, aptly named BFF Mascara, is set to become a ride-or-die fixture in your makeup bag, and for reasons beyond its incredibly low $8 price tag. The super-affordable mascara has been painstakingly formulated to make your eyes pop, by creating lashes that are simultaneously lifted and volumized from root to tip. Plus, ColourPop promises that the blackest-black mascara will sweep on smoothly, thanks to a unique applicator brush with twisted nylon fibers that comb through every last lash. The result? Buildable, clump-free coverage you'll reach for day after day.
And just like your real-life BFF, the brand's formula boasts a no-flake policy, so you won't be left stranded with unsightly bits of mascara under your eyes by mid-afternoon. So swipe on a second coat with zero fear, this new friend has got your back from morning to night.
But wait, there's more. After teasing the launch of its new category on its social media handles, ColourPop divulged that six additional shades will be joining the BFF Mascara family. Not only will you be able to grab a tube or two of the initially-announced black mascara on Jan. 24, but the brand will offer up the other colorful hues — which include purple, pink, and green — on the same day. Talk about making a splash, right?
The latest additions to the ever-expanding ColourPop family officially become available exclusively on the brand's site on launch day, so stay tuned to ColourPop's Instagram and mark your calendar to snag some for yourself — with this much buzz before the drop, it's bound to go fast.