Of Course Chrissy Teigen's Engagement Ring Comes With A Hilarious Backstory
Carl Timpone/BFA/Shutterstock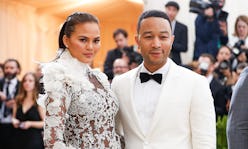 Chrissy Teigen isn't afraid to be open, and her refreshingly honest conversations make the star all the more genuine. She's talked publicy about her struggle with postpartum depression and never fails to shut down rumors with grace and wit — she is the queen of twitter comebacks, after all. But perhaps the funniest (and slightly cringe-worthy) story that she and John Legend have shared has to do with the bauble that's been perched on her ring finger since 2011. That's right, Chrissy Teigen's engagement ring comes with a hilarious backstory that proves, yet again, just how relatable the couple is.
Legend and Teigen dated for four years prior to him asking for her hand in marriage with one of the most stunningly simple sparklers in Hollywood. "Chrissy's classic engagement ring features an estimated 5 to 6 carat cushion-cut diamond in a delicate pavé diamond platinum or white gold setting," Kathryn Money, vice president of strategy and merchandising at Brilliant Earth, shares with The Zoe Report over email.
"Chrissy often wears her engagement ring nested between two matching pavé diamond wedding bands," Money adds, noting that the stacking of multiple bands has become an increasingly popular trend amongst brides because it "adds extra sparkle to a classic look." As for the ring's value? Money estimates Legend to have spent somewhere around $150,000 to $200,000, "depending on the quality and specific characteristics of the diamond."
As it turns out, the entire proposal, which took place while the couple was vacationing in the Maldives in Dec. 2011, was almost ruined because of airport security.
"[The ring] was in my carry-on bag going through security, and [they] wanted to look through my bag, and they wanted to look in that particular box," Legend shared during a 2013 appearance on Oprah's Next Chapter. "Chrissy was standing right next to me and I was, like, 'Oh, my God. I've hid it so well this whole time. Now as we're just about to get to the Maldives, she's going to find out I have a ring in this box, and it's going to ruin the surprise, and I'll have to get on my knees in the airport,'" he added.
Luckily, however, the ring was kept hidden, and Legend was able to carry out his secret Maldives proposal as he had planned. He popped the question with a traditional sparkler that, although Teigen has revealed she had no part in designing, was a fitting choice for her timeless look.
Though engagement ring trends are ever-changing, Teigen's classic style continues to serve as inspiration. In fact, Money shares that her ring actually hits on several of-the-moment jewelry trends. "Fancy-shaped (non-round) diamonds, such as cushion, oval and pear shapes, are increasing in popularity," she explains, citing Priyanka Chopra and Karlie Kloss' baubles, which also feature cushion-cut diamonds, as two other celebrity examples.
Ahead, shop The Zoe Report's roundup of Teigen-inspired rings, all of which are perfect for the bride-to-be who love timeless pieces with a touch of sparkle.
Shop The Look