Chrissy Teigen Squeezed In A Hair Makeover Before Summer's End & It's So Pretty
David Livingston/Getty Images Entertainment/Getty Images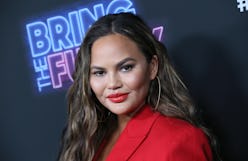 In a rather unexpected turn of events, Chrissy Teigen just got blonde highlights after returning home from vacation. The model still had her caramel color when she was flooding your Instagram with bikini shots over Independence Day weekend, but now she's looking beachier than ever with a new summer shade. We're going to need more yacht photos, please.
The season for dramatic hair changes is clearly not over because a slew of celebrities have gone blonde just since Mon. Lily Aldridge, Natalie Portman, and now Teigen have all lightened up their look this past week.
As you probably already know, the precious family of four just got back from a luxury European getaway earlier this month. The average girl might have wanted to squeeze in that obligatory trip to the salon before the big family vacation even began but Teigen is obviously no average girl. She waited until she got home.
Perhaps too much lounging on the pristine beaches of Italy made her usual caramel color brassy. In any case, the model and mom of two posted a series of Instagram Stories Thurs. to debut her fresh, new look.
"Went a little blonder for the remainder of summer," Teigen said in the video, tagging Priscilla Valles and Tracey Cunningham, who she later called her "hair gods."
Valles is pretty much known as Hollywood's hair extensions guru, while Cunningham has colored the likes of Kiernan Shipka, Leslie Mann, Emma Stone, and more.
In her latest video, the model just can't help but stroke her new hair and do a couple hair flips, as any girl would do after a trip to the salon. You can see the bright golden streaks and a hint of Teigen's original color underneath.
Although she typically sticks to a brunette palette, the 33-year-old is certainly no stranger to a blonde hue. In fact, she was just rocking honey-colored highlights last fall. The last time Teigen went this light, though, was perhaps with that major dye job she got in 2016, right after Luna was born.
We can all agree that three years is just too long to go without seeing this cool mom as a blonde. If your summer resolution was to finally go Baywatch with dramatic summer highlights, then channel your inner Chrissy Teigen and schedule that mid-summer hair makeover once and for all.