The Dress Chiara Ferragni Wore On The Venice Film Festival Red Carpet Took 700 Hours To Make
Vittorio Zunino Celotto/Getty Images Entertainment/Getty Images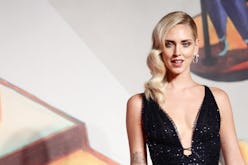 The question is no longer "who are you wearing?" but rather "how long did it take to make your dress?" these days. Sophie Turner's wedding gown, for instance, reportedly took 350 hours. Ellie Goulding's? 640. And as for Chiara Ferragni's custom Dior dress at the 76th edition of the Venice Film Festival on Weds., that one occupied a whopping 700 hours of the atelier's time.
Not that the experts who hand-stitched those delicate little sequins onto the influencer's stunning tulle gown minded. It was all in the name of creating yet another wearable masterpiece, after all. One that the fashion industry will still be raving about next season, at that.
The it-girl's new documentary, Chiara Ferragni - Unposted, is the perfect excuse for her to monopolize every red carpet from now on. In light of the film's debut at the Venice International Film Festival, it's safe to say she outshined them all.
The Blonde Salad blogger is famously friendly with the French fashion house, even wearing not one but two Dior haute couture dresses on her wedding day — which was so extravagant that people called it "Italy's royal wedding" — so, it should come as no surprise that the brand would play a major role in this landmark moment as well.
Although Dior may not be of Italian origin, its current creative director, Maria Grazia Chiuri, is. The bespoke design Ferragni flaunted on Weds.'s red carpet was a simple, low-cut black gown made glamorous with the help of lots of sun-pleated tulle — miles of the stuff, by the looks of it — and more sequins than any person could count.
The beads created a glitter effect as they danced under the flashing lights. Of Ferragni's near-decade of Internet fame, this princess moment is probably her most memorable yet.
Chiara Ferragni Unposted was written and directed by filmmaker Elisa Amoruso and features the Instagrammer talking about how she went from model to blogger to all-around fashion monarch (now the owner of a namesake brand and subject of a beauty MasterClass).
The documentary also delves into such personal matters as marriage, motherhood, and dealing with negative comments online.