Chiara Ferragni's First Makeup Collaboration Just Dropped & Yes, You Need Everything
Courtesy of Lancôme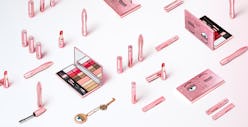 It's been 10 years since Chiara Ferragni founded her blog, The Blonde Salad. In what feels like both ages and no time at all, the fashion influencer has developed her blog into a full-blown brand — complete with its own fashion line. Additionally, she's also an entity in her own right. With more than 16 million followers on Instagram, she has become one of the top influencers in the world. Clearly, Ferragni isn't stopping any time soon, and now that she's launched the Lancôme x Chiara Ferragni collab, she's making her way into beauty.
Perhaps it was expected that the fashion influencer — whose brand is known for its fun, playful, and flirty pieces — would step into the beauty world. After all, she regularly posts her own beauty looks on social media. And now, she's entering this new world with a bang. With Lancôme, Ferragni created a capsule collection featuring a makeup palette, three lipsticks, three lip glosses, and Lancôme's $27.50 Hypnôse Drama Mascara in limited-edition packaging — all with The Blonde Salad's signature winking eye motif.
The collection, which is available at Nordstrom and ranges from $26 to $55, features a color palette of everyday shades like pinks, reds, and neutrals. In an interview with The Zoe Report, Ferragni explains that she chose classic colors — which were inspired by her go-to shades — because she wanted the collection to have products anyone can use. "Some products and colors are for certain people who want to try more or risk more with their beauty looks," she tells TZR. "I wanted [the collection] to be available for every kind of girl. From teenagers to older women, to people even my age."
With products that will each fit seamlessly into anyone's makeup routine, the entire collection really is perfect for any occasion. But as for which piece to snag first, Ferragni especially loves The Flirting Eyeshadow Palette, $55, for her natural, everyday look. "I love the effortlessly cool, no makeup makeup," she shares. "I love glowy skin, but I really love a natural lip. Then a little bit of mascara and a golden eyeshadow — just a natural, healthy look."
As for Ferragni's own beauty inspiration? Naturally, she looks to her mother. "She's always experimenting with makeup, and she was the one introducing me to makeup. The first foundation, the first eyeshadow, the first lip gloss; she has always been a big inspiration," she says.
Luckily, that early inspiration clearly gave her an understanding of what customers want in their beauty collections — and it shows in her first makeup collab. Scroll down to see the Lancôme x Chiara Ferragni collection below, and then head over to Nordstrom to add these pieces to your cart — given Ferragni's loyal fan base, this one's sure to sell fast.