4 Ways Princess Eugenie's Wedding Will Compare To Meghan Markle's
Chris Jackson/Getty Images Entertainment/Getty Images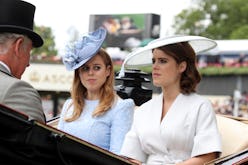 If you're still reeling from the mayhem of Meghan Markle and Prince Harry's wedding, you're going to want to sit down for this: Another royal will make her way down the aisle this year. In what's rumored to be an even bigger affair than the Duke and Duchess of Sussex's ceremony, Princess Eugenie's wedding is officially one month away. And whether you plan to host a viewing party or dodge social media for the day, the time to study up on the year's second royal wedding is now.
Princess Eugenie is set to marry her longtime boyfriend Jack Brooksbank on Oct. 12. Considering Eugenie is the granddaughter of Queen Elizabeth — that makes her the cousin of Prince Harry and William — it's likely that your favorite royals will be in attendance (think: Meghan, Harry, William, Kate, and maybe Prince Louis). Ahead, everything you need to know about Eugenie's wedding and how it will compare to Markle's.
The Venue
Remember the gorgeous church Markle and Harry held their ceremony in May? You weren't the only fan — Princess Eugenie and Brooksbank will also tie the knot at St. George's Chapel at Windsor Castle. The chapel has actually been the sight of numerous royal weddings, including Prince Charles and Camilla Parker Bowles' union in 2005.
The Guest List
Although St. George's Chapel holds an impressive 800 guests, The Daily Mail reports that Eugenie's guest list has reached 850 (compared to the 600 the Duke and Duchess of Sussex invited). Chairs will reportedly be brought into the venue on Oct. 12 to accommodate the extra guests.
Markle and Harry's wedding was filled with celebrity guests, which included the likes of Amal and George Clooney, Priyanka Chopra, and, of course, the cast of Suits. While Eugenie's exact guest list won't be released in advanced, it's likely that the princess will invite high-profile friends like Karlie Kloss and Ellie Golding (both of whom Eugenie vacationed with earlier this year).
The Bridal Party
Princess Eugenie has chosen her sister Beatrice as maid of honor. In August, Eugenie and Beatrice revealed to British Vogue that wedding planning has gone smoothly. "She's a very modern bride," Beatrice said of her sister.
Like all royal weddings, the rest of Eugenie's bridal party will be made up of children. Markle was accompanied by 10 children, including Princess Charlotte, Prince George, and a handful of her and Harry's godchildren. Prince Louis is likely too young to join Eugenie's bridal party, but there's a good chance he'll attend the ceremony with William and Kate.
The Itinerary
Following the ceremony, Eugenie and Brooksbank (like Markle and Harry) will lead a carriage procession to St. George's Hall where the Queen and the Duke of York will host a breakfast. The Daily Mail reports that approximately 400 guests will be invited to the evening portion of the wedding, which is said to include a champagne at the royal family's home, Royal Lodge, in Windsor Great Park.
Although Markle and Harry's itinerary was traditional, Eugenie and Brooksbank will opt for a two-day celebration. Day two is said to include a "festival and funfair" themed party at the Royal Lodge. Eugenie has hired Bentleys Entertainment (the masterminds behind Victoria and David Beckham's wedding in 1999) to plan the event.