The Affordable Valentine's Day Getaway You'll Want To Take — No Matter Your Relationship Status
Kate Kultsevych/Shutterstock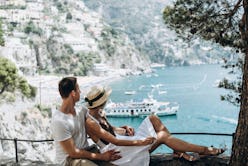 As more and more people are prioritizing experiences over things, travel has become the choice-du-jour when it comes to splurging and gift-giving. With plane tickets replacing presents and selfies becoming the new souvenirs, it only makes sense to consider celebrating Valentine's Day with a trip. After all, who needs extravagant gifts when you can enjoy some much-needed time together, instead? A trip, even a short one, can make for a cheap Valentine's day idea that is not only fun, but can also give you a well-deserved refresh.
While affordability tops the list of reasons people don't travel, you can scope out deals that cost about as much as a pair or two of designer shoes. Furthermore, you don't have to go too far to "get away"; you can book an extended weekend, or even just an evening, at a nearby hotel or spa. Plan an all-inclusive vacation at a resort right in your backyard, or cross the border north or south to Canada or Mexico. Depending on where you live, you may not even need to board a plane.
Valentine's Day is a few weeks away, but it's not too late to book a last-minute trip for the holiday. Whether your Valentine(s) include your family, your friends, your beau, your dog, or heck, yourself, book one of these cheap and easy-to-plan getaways now — no matter your relationship status.
Reunion Resort || Kissimmee, Florida
Staycation Romance Package: $299 per night
With pools, a lazy river, a spa, a golf course, and plenty of dining options, the 2,300 acre Reunion Resort has no shortage of things to do (plus, it's just minutes from Disney World and Universal Studios). If your Valentines include a kiddo or two, the Pre Pay and Save option allows you to book spacious two-bedroom villas for as low as $323.10 per night.
But if some one-on-one time is what you're after, check out the Staycation Romance package for $299 a night. You'll stay in a private one-bedroom villa, get 20 percent off golf and spa services, and receive a $100 food and beverage credit per night. This option is perfect if you want to make planning a breeze — you won't even have to leave the resort. And thanks to the dining credit, this package can make for a very affordable long weekend.
Mystique Blue Holbox || Isla Holbox, Mexico
Roses are Red, Violets are Mystique Blue Package: $202.25 per night
Looking for an out-of-country escape that's not too far from home? You'll fall (back) in love at the stunning Mystique Blue Holbox in Mexico, while riding bikes, snorkeling, kayaking, and exploring the nearby Yum Balam nature reserve
Plan your V-Day getaway from February 13 through 17 and score a Deluxe Junior Suite for as little as $202.25 a night. Or, wait until spring and reserve the same room for under $200. Pro tip: Before booking, email reservationsbho-cun@mystiqueresorts.com and ask about the "Roses are Red, Violets are Mystique Blue" package, which includes a bottle of wine at check-in, daily breakfast, and 10 percent off a romantic dinner for two.
The Jupiter Hotel || Portland, Oregon
Ink and Drink Package: $189 per night
Are you on the unconventional side? This TravelPirates pick is for you. Grab your beau, your bestie, or even your dog and spend Valentine's Day at The Jupiter Hotel in downtown Portland. There, you can snag the Ink and Drink Package — which includes a night's stay, a bucket of craft beer, and yes, a tattoo — starting at $189. If you want to extend your stay, rates for hotel rooms are as low as $119 per night.
The tat voucher (you only get one) allows you to get inked at the nearby Jackalope Custom Tattoo. You can choose from a handful of exclusive designs or get a discount on a custom piece of your own. Either way, it'll be a Valentine's Day you'll never forget.
If you choose to bring your most loyal pal (yep, your pup), there are plenty of dog-friendly bars and restaurants around town. Just keep in mind you'll have to pay the hotel a non-refundable $35 pet deposit fee.
Grotto Bay Beach Resort & Spa || Hamilton Parish, Bermuda
Groupon Getaway: $375.50 for a three-night stay
If sandy beaches, clear waters, snorkeling, and sailing are what you're after, head to Grotto Bay Beach Resort & Spa for a three- to five-night stay. You can score this romantic Groupon Getaway for 50 percent off, starting at $375.50 for three nights. (Airfare is not included.)
To make planning even easier, upgrade to the all-inclusive package that includes three daily meals, unlimited bar-brand drinks, buffets, afternoon tea, non-motorized water sports, and a transport pass for $1,057. 50. Want to stay longer? Choose the five-night all-inclusive package, instead. If you're heading into V-Day feeling single and fabulous, why not treat yourself to a solo trip — or bring a few girlfriends along.
Four Points By Sheraton || Ontario, Canada
Four Points By Sheraton Stay: $90 per night
Far enough for a getaway but still easy to get to, try booking a luxe stay at the Four Points by Sheraton in Ontario. Here, you'll find breathtaking views of Niagara Falls — from the Canadian side. You can snag a room for the night of V-Day for around $90, and TravelPirates found additional deals on different dates between $60 and $75.
Whether you bring the kids, your S.O., your friends, or your mom, the area has lots to offer from amazing restaurants, kid-friendly excursions, a nearby casino, and plenty of places to take epic selfies. (The Sheraton also offers a slew of packages and Niagara Falls tours). If you'd rather lounge around, the hotel has a heated indoor pool where you can take a dip while taking in the scenery.