The Charlotte Tilbury Collection That Keeps Selling Out Is Finally Back In Stock For Good
Charlotte Tilbury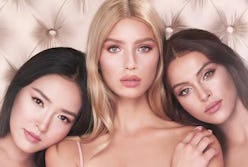 Sometimes there's a product launch so special, it seems like everyone's talking about it. From models and makeup artists to your beauty-obsessed friends, word of mouth about Charlotte Tilbury's Pillow Talk collection traveled fast. Like, instant-sellout fast. And if you and your crew were amongst the fans clamoring for the return of the limited-edition look, you'll be thrilled to hear that the talk of the town is finally back, and this time it's here to stay.
It all started with the perfect pout. Charlotte Tilbury's Pillow Talk Lip Cheat lip liner and Pillow Talk Matte Revolution lipstick took the world by storm — proving that there's something powerful about a luscious, nude lip. And after five years of gracing the smiles of celebrities, supermodels, influencers, and beauty buffs all over the world, Tilbury took it upon herself to expand the Pillow Talk look beyond just the lips.
Her namesake brand introduced a limited-edition Pillow Talk Luxury Palette and Pillow Talk Cheek to Chic blusher, both of which sold out seriously fast. To celebrate that success (and to address the never-ending calls for a re-stock), the Pillow Talk Look officially became permanent on Jan. 25, so you'll never have to be without the pretty products again.
If you've never tried the instantly iconic makeup, you may be wondering what makes it so special. Indeed, there's something nearly magical about Tilbury's Pillow Talk shade — it has a way of enhancing and perfecting the features of anyone who uses it, for a flawless face that still looks effortless and natural.
Case in point, the newly re-launched Pillow Talk Luxury Palette, $53, which features four golden pink shades to subtly enhance your eyes for a sultry, yet super-wearable everyday look. Swipe the pale pink shade across lids to make eyes look wide-awake, and work a bit of the deeper nude-rose color into your crease to create dimension. At night, add the shimmering rose gold color for a captivating gaze.
Continue the look with Tilbury's Pillow Talk Cheek to Chic blush, $40, a dual-toned compact with the dusky Pillow Talk pink and a coordinating champagne color. Both hues bring a gorgeous glow to the face for an "I woke up like this" naturally flushed complexion, and are super-pigmented so you can precisely build your desired level of luminosity.
Obviously, the collection wouldn't be complete without its two trailblazers, the Lip Cheat liner and Matte Revolution lipstick, $22 and $34. Scoop them up as well, so you can create instantly fuller looking lips that last all day. Keep scrolling to shop each of the now-permanent Pillow Talk collection products, or snag them all by grabbing the full Pillow Talk Look kit — even though they've returned for good, it's safe to guess the initial stock is set to go fast.