This New Charlotte Tilbury Lipstick Is The '90s Throwback You'll Actually Want To Wear
ImaxTree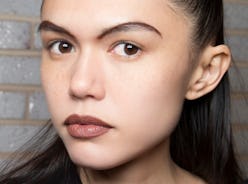 Let's face it: As much as today's fashion and beauty launches seem to be a melting pot of trends from all corners of the industry, there are always those key decades that have a way of making their way back into the mix — and multiple times, at that. Take a look at the '70s and '80s, two decades that the industry simply can't get enough of at the moment. More notably, though, is the '90s, a decade that seems long in the past despite feeling too close to home to be considered vintage. And yet lately, the era of the supermodel has been an inspiration for a number of looks and products, including Charlotte Tilbury's Supermodel Lipsticks.
It seems like only yesterday faces of '90s models such as Cindy Crawford, Naomi Campbell, Christy Turlington, and more were splashed on nearly every advertisement. With bold features and an unparalleled level of striking confidence, a '90s supermodel was a force to be reckoned with. Now, Charlotte Tilbury is taking that effervescent energy so specific to the time and putting into the form of a matte lipstick, giving any present-day woman the opportunity to channel the '90s and create her own supermodel-worthy moments.
While you might be hesitant to take on (or return to) some of the '90s trends that have been making comebacks as of late, these lipsticks are a nostalgic beauty product you'll actually want to wear. Inspired by the iconic '90s supermodel era, Charlotte Tilbury's signature Matte Revolution lipsticks come in a collection of three different shades, available for $34. In this limited-edition release, you'll find a classic rosy nude named Super Model, a slightly warmer nude-rouge known as Super Sexy, and a classic '90s nude-brown aptly titled Super Nineties. If you want to have a full lip look, you also have the option to buy the Luscious Lip Slick, which costs $52 and is available in all three colors.
If you're ready to look and feel like a classic '90s supermodel, scroll down to shop the gorgeous matte lipsticks that will take you back to the cool decade of sheer minimalism.