How Briogeo's New Collection Helps Keep Your Dye Job In Tact Longer
Courtesy of Briogeo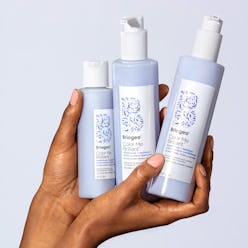 Anyone who's ever changed the natural color of their hair will tell you it's a labor of love. From shampoos to protein treatments, serious work goes into maintaining a new look. And previously, there weren't many one-size-fits-all fixes; typically speaking, hair that's bleached platinum blonde requires very different products than a fire truck-red dye job. However, basically everyone with color-treated hair could use a little help protecting it from fading — which is exactly what Briogeo's Color Me Brilliant collection does.
The recently-released collection hit the haircare scene with a bold claim: Briogeo states on its website that the Color Me Brilliant collection will help keep your hair color from fading for up to 10 washes. And no, this doesn't mean that Briogeo's collection will break the bank, too; each new product in the Color Me Brilliant suite retails for under $30. The Color Me Brilliant shampoo and conditioner both retail for $28, while the leave-in hair primer goes for just $26.
The Color Me Brilliant collection had a lot of tasks to accomplish in one go. As you probably know, the first few washes after a trip to the salon can be the hardest ones. It's when your ashy blonde suddenly looks way more brassy than it did pre-shower, or your new dark locks go from glossy to dull. There are many reasons why your color-treated hair fades so soon: Everything from your environment to minerals in your shower water can affect how your hair looks. To fight this multipronged problem — while still remaining vegan, cruelty free, synthetic color free, and gluten free — Briogeo had to get creative.
Which is why Briogeo's new collection is formulated with bamboo leaf extract, pomegranate extract, and turkey tail mushrooms. While that may sound like the base of a really excellent soup, the natural ingredients actually work similarly to those found in high-end haircare products — Briogeo states on its website that turkey tail mushrooms act as a vegan alternative to keratin protein. (Surprised it's not originally vegan? Same. According to PETA's website, keratin can be made from horns, hooves, and more.)
But how do those ingredients actually keep your hair color on point? Briogeo calls it a "color-lock complex": The turkey tail mushrooms smooth the hair follicle while the bamboo leaf extract coats and strengthens it. The extract also improves hair's elasticity, doing wonders in the long run for your hair's length and look.
So, no matter which color you spring for this season, Briogeo's newest release will help you keep it bold and bright. Below, all three new Briogeo products from the Color Me Brilliant collection.