Bite Beauty's Complexion Makeup Debut Features 3 Essentials Your Makeup Bag Needs
Courtesy of Bite Beauty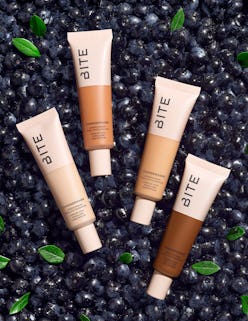 Looking to revamp your vanity this year? The answer to a flawless beauty routine isn't necessarily a whole slew of superfluous new products (of which there's plenty); in fact, a true upgrade is one that streamlines the time you spend in front of the mirror and enhances your face in all the right ways so you can look your best, effortlessly. For that, look no further than Bite Beauty's new Changemaker Complexion System. It's the brand's first take on complexion cosmetics, and it's ready to overhaul your makeup bag in just three steps.
When a brand decides to dip into a totally new category, the launch is no doubt the result of careful planning and consideration. And clearly, Bite Beauty — known previously for its sleek curation of lip products (plus consumer-facing make-your-own lipstick labs) — really did its homework.
As of Jan. 10, the beauty brand is branching out into the complexion category with a thoughtful drop of the only three skin-loving essentials you'll need for a flawless face: skin care-inspired primer and foundation, plus a travel-ready pressed powder. Fans of the brand will be pleased to know that, similar to the launch's lip product predecessors, good-for-you formulas are at the forefront.
Bite Beauty's Changemaker Complexion System, now available at Sephora and on the brand's website, starts with its Skin-Optimizing Primer, $38. It's available in two formulations, one infused with hyaluronic acid for normal to dry skin and one with mattifying willow bark for skin that trends oilier. Thanks to Bite Beauty's skin-first attitude, each act as a sort of bridge from your skin care to your makeup routine to balance your complexion for better foundation application. And, of course, it grips onto your makeup for longer lasting wear.
The new Supercharged Micellar Foundation, $39.50, follows suit in a skin care-makeup hybrid fashion, utilizing the same micellar technology as cleansers you might've used to make the formula blend better with your skin. The creamy medium coverage foundation, which comes in 32 shades, also includes antioxidants from maqui berries so your complexion is strengthened and protected with each wear. Enhance coverage further with the Flexible Coverage Pressed Powder, $36, which provides a soft matte finish and blurs the look of pores thanks to finely milled volcanic materials (not talc). The powder also comes with a puff, for midday touchups on the go.
Bite Beauty didn't stop there. It's also introducing reformulations of its Power Move Creamy Matte Lip, $24, and its Agave+ Intensive Vegan Lip Mask, $26, two of its popular lip products. The bold matte cream lip pencil, infused with mango and pomegranate to soften lips, comes in 20 shades, while the vegan lip mask relies on humectant agave and superfood antioxidants to create a protective, moisturizing barrier on lips. Pro tip: Use the mask on cuticles and anywhere else that's dry or cracked, too.
Say goodbye to overflowing makeup drawers in 2020, and streamline your routine with the new skin-loving system from Bite Beauty. Snag it all, and the brand's new-and-improved lip products, below.