This Hungarian Beauty Brand Just Introduced A Gentle Solution For Removing Stubborn Makeup
Courtesy of Omorovicza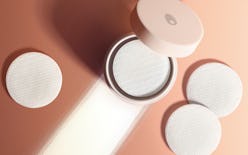 While you not have heard of Omorovicza yet, that doesn't mean the Hungarian skincare brand is underground. In fact, the luxury beauty brand is available at Sephora, Nordstrom, and Neiman Marcus — where customers have fallen in love with Omorovicza products, like the Thermal Cleansing Balm and Queen of Hungary Mist. Which makes the brand's newest release — Omorovicza's Peachy Micellar Cleansers — all the more exciting. Since officially opening up shop in 2006, the up-and-coming beauty brand has built itself a small empire (and cult following) by creating skin care inspired by Budapest's healing thermal water.
Or, as the brand calls it, Omorovicza's Healing Concentrate; a patented formula included in the $50 wipes that mimics the mineral delivery system of the Hungarian hot springs. According to Omorovicza's website, the Healing Concentrate instantly visibly refreshes and hydrates skin — and with more use over time, the concentrate helps strengthen your skin, repairs damage, and increases the production of collagen and elastin. These Peachy Micellar Cleansers are basically some of the most powerful makeup wipes you can invest in.
With all the ease of your favorite end-of-the-day wipe, too. One jar comes with 60 discs — and you don't need to be a mathematician to realize that means you're getting a lot of uses for the $50 price. Swipe the solution-soaked disc over your dry face and presto, your makeup and any additional impurities that collected on your face during the day are removed. Even waterproof eye makeup stands no chance against the cleansers.
In addition to Omorovicza's signature concentrate, the cleanser also gets its skin-boosting power from olive oil esters and Damask rose flower water. Which, surprisingly, don't factor into the product's smell: Omorovicza notes that the cleanser's scent is subtle, and smells like a mix of peach (which clarifies the name) and patchouli.
At the moment, you can buy the Peachy Micellar Cleansers on Omorovicza's website, or at a few other retailers like Nordstrom. If you want to get your own jar, though, all you need to do is scroll down — everything you need to know about the cleanser is listed below.