The Skincare Ingredients Biossance's New Balm Relies On To Keep Lips Seriously Hydrated
Courtesy of Biossance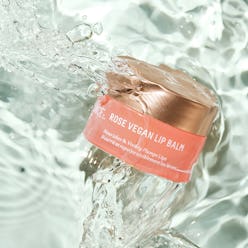 You know that "ahh" moment of absolute relief when you slick some lip balm onto a chapped, cracked, and all-around dry pout? It resides in its own special category of complete bliss. But the problem with most balms, is that sweet feeling tends to be pretty fleeting and suddenly your lips are longing for a fix all over again. That's because many balms simply coat your pout with a temporary protective shield instead of actually conditioning and moisturizing — but that's where Biossance's new Squalane + Rose Vegan Lip Balm is different. With a host of hydrating ingredients you'd find in your favorite skin care, this lip balm will have your lips looking and feeling fantastic.
If there's one product that makeup maximalists and beauty minimalists alike can all get behind, it'd be a really good lip balm. It's a necessity in anyone's bag for obvious reasons (because who likes having flaky, forlorn lips), but finding an effectively hydrating balm that helps your pout feel its best for hours on end is unfortunately easier said than done. Until, of course, Biossance decided to take the best of skincare and inject it into a luxuriously, decadently moisturizing balm. Your holy grail lip balm has arrived.
Biossance launched its brand-new Squalane + Rose Vegan Lip Balm, $18, on Aug. 19, just in time to rescue sun-soaked summer lips in need of serious hydration. And unlike other balms that rely on petroleum-based formulas to fortify your pout's delicate skin, Biossance's latest drop looks to your skin care shelf for a much-appreciated dose of inspiration. Yep, compare ingredients between this balm and, say, your holy grail moisturizer and you're sure to see more than a couple similarities.
First off, the petroleum-free and completely vegan balm packs a deeply hydrating and plumping punch thanks to skin care staple hyaluronic acid. Immediately upon application, the moisture-attracting ingredient smooths and plumps lips for a more pillowy and soft feeling — and it'll actually help your pout retain hydration over time so you don't have to re-up an hour later. On top of that, sugarcane-derived squalane and ceramides weightlessly lock in that hydration and help strengthen your lips' defense from environmental factors (plus add a fresh, dewy, non-sticky dose of shine).
Biossance added rose absolute for a completely natural, heavenly aroma and extra softness, and wakame algae to restore your lip's plumpness over time. After two weeks of use, you can expect more voluminous, smooth lips with less noticeable fine lines and no cracks in sight. Pro tip: Apply twice a day on and around your pout to target wrinkles surrounding your lips, and mix with an SPF to create an even more protective balm.
Snag Biossance's super-moisturizing lip balm from the brand's site below, or scoop it up during your next Sephora run on Aug. 27 online and Sept. 27 in store.