Glossier Just Created Another Balm Dotcom Flavor & It's Perfect For Fall
Courtesy of Glossier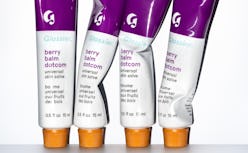 Whether you've been a fan of Glossier since it first launched in 2014 or you're just starting to incorporate its famous products into your everyday routine, there's no denying it: Nearly everything Glossier makes is an instant favorite. The beauty brand has built itself on straightforward, easy-to-use (and affordable) skin care and makeup. And with the arrival of the Glossier Berry Balm Dotcom flavor, the brand has yet another product you won't be able to resist (and it's perfect for the upcoming season).
If you look at Glossier's past year, it's clear that the beauty company isn't planning to slow down any time soon. Earlier in 2019, the brand introduced Glossier Play, its line of highly pigmented and festive cosmetics, as a lively alternative to its popular everyday makeup products like its Stretch Concealer, Cloud Paint, and Boy Brow. And in July 2019, Glossier launched a collection of merchandise with the introduction of GlossiWEAR, featuring hair accessories, sandals, T-shirts, and more.
With all these new (and undeniably exciting) additions to Glossier's repertoire, one might think that its original — and most viral — products have been set on the back burner as the brand focuses on its most recent launches. However, if there's one thing you can count on Glossier to do — besides deliver cult-worthy beauty products, of course — it's keep you on your toes. And while the brand has definitely been doing that with its string of new announcements, it's also expanding its highly coveted Balm Dotcom with a new flavor: Berry.
As you finish off the season and say goodbye to all of your favorite summer things, Glossier has created the $12 Berry Balm Dotcom to help you transition into your fall beauty routine. During the time of year when, more likely than not, you'll start to need it, this sheer, berry-tinted balm will keep your lips fully hydrated with a simple sheen. And if you want to maintain the spirit of warm weather picnics and homemade jams, Glossier's latest addition to its lip balms also carries a sweet berry scent.
If you love the deep hue of berries for your lips (and want to add some slightly darker colors into your routine for fall), add this to your beauty closet, stat. And, if you want to create a full collection of Glossier's best-selling lip balms, get your three favorite flavors with the Balm Dotcom Trio, $30 — based on the product's reviews, you can probably never have too many.
Shop the new Berry Balm Dotcom below.