If You Hate Greasy Moisturizers, Try This
Clary Collection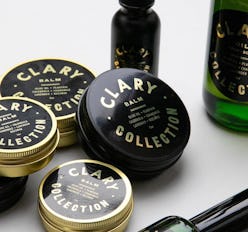 When your lips are dry, cracked, or otherwise in need of a little love, where do you turn? Lip balm, of course. Now, you can do the same for your skin. Balm-textured skincare products are suddenly everywhere, from Sephora to Net-a-Porter to Etsy, which makes it official: Face balm products are the new lip balms.
"Moisturizers come in a variety of forms," Dr. Aanand Geria, a dermatologist with Geria Dermatology in New Jersey, tells The Zoe Report. "Light lotions and serums are on one end, creams are somewhere in the middle, and ointments and balms are on the other." These texture tiers are determined by water content: Lotions and creams are made up of mostly water (you'll notice it's often the first ingredient listed on the back of the product bottle), whereas balms are formulated with no water at all — leaving more room for concentrated moisturizing substances.
"Balms are made up entirely of the active ingredients that comprise only 10 to 15 percent of the ingredients found in creams and lotions," Suzanne LeRoux, the founder of One Love Organics, confirms in an email to The Zoe Report. "Without fillers, preservatives, and stabilizers, they are super-concentrated superheroes: antioxidant-rich plant oils and butters, waxes, plant extracts, healing essential oils — nothing but the result-delivering good stuff." Of course, "the good stuff" varies from product to product; but most balms are based in beeswax (an anti-inflammatory, wound-healing agent), shea butter (moisturizing and great for scars), or olive oil (full of Omega-rich fatty acids).
Obviously, a filler-free formulation is going to pack quite the punch. For one, face balms tend to be significantly more moisturizing than other options. "Since moisturizers are heavily water-based, they evaporate and leave skin with a drier texture," Stephanie G-M, the founder of Ouli's Ointment, tells TZR. "A balm, like Ouli's, traps in moisture when applied to damp skin, so it keeps skin hydrated through the day." Balms also act as a sort of "barrier," simultaneously sealing in moisture and protecting sensitive skin from environmental irritants.
Dr. Geria says that balms are often described as "healing," as well (see: Shiffa Healing Balm, Dr. Rogers Restore Healing Balm), since they have the ability to repair almost any kind of compromised skin — whether it's dry and peeling, prone to eczema, or covered in burns. "Our high concentrations of pure shea butter mean that we soothe everything from eczema and psoriasis, to basic dry skin, to the appearance of wrinkles and stretch marks," Naa-Sakle Akuete, the founder of Eu'Genia Shea, tells TZR. And because no H2O is present in these products, "there are little to no preservatives [in balms]," Dr. Geria says. "So this may be the only option for people with eczema, who get an immediate burning sensation when using a cream." (Preservatives, for some, can be irritating.)
Since balms generally rely on a small list of universally-loved ingredients, many of them are multitasking, as well. For example, Ouli's Ointment is suitable for use on chapped lips, frizzy hair, cuts and burns, and even babies' bottoms to treat diaper rash. "In addition to aiding dry and cracking skin, it can also serve as a hair conditioner, makeup primer and remover, and lip balm," Akuete says of her Eu'Genia Balm. Taui Balm can be used on wrinkles, pregnant bellies, and cuticles; Clary Balm is aces for chapped nipples (new moms know what I'm talking about) and fresh tattoos; One Love Organics Wonder Balm acts as a makeup remover as well as a makeup primer.
Finally, the concentrated nature of a good balm means "a little goes a long way," according to LeRoux. "In fact, when you use them as directed, most balms last an average of three to five times longer than a cream." Considering the fact that the right balm could replace a whole host of your other beauty products, too, it might just be the key to a truly effortless beauty routine.
Lest you go thinking face balms are too good to be true, there are a few caveats to mention. First, there's a technique for applying them. "Before applying to your skin, warm the balm between your fingers or in your palm — this thins the product, helps it distribute better, and heats it up slightly, thereby allowing the nutrients to absorb more easily into the skin," LeRoux says. "They really need to be applied to damp skin to have the maximum effect of helping seal in the moisture, so spray on a facial mist or dampen your face before applying the balm." This, she swears, leads to the perfect consistency — smooth, velvety, hydrating, and not at all greasy.
"Healing balms are best for severely dry or cracked skin," Dr. Geria says, warning that some balms — especially ones containing coconut oil, which is comedogenic — can be pore-clogging for the oily and acne-prone. But, that's not always the case. "For example, shea butter is [non-comedogenic]; so while it may seem counterintuitive, Eu'Genia Shea is actually great for oily skin as well as dry skin," Akuete says. "I've had acne-prone customers try Ouli's Ointment and not break out, to their surprise," G-M adds. It's all about finding the right ingredients for your particular concerns.
Ahead, 11 face balms primed to take over your skincare regimen. And since they are the new lip balms, why stop at just one? You'll need one for your bag, your car, your bathroom, your desk…
Shop Face Balms