Beyonce's Outfits At The Made In America Festival Were Defined By This Belt Bag Brand
John Salangsang/BEI/Shutterstock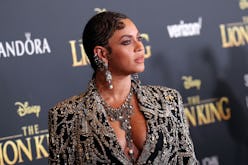 If Queen Bey is still on board with the summer festival fanny pack fad, then you can be, too. Photos of the singer at Made In America 2019 show that Ashya belt bags were a mandatory staple in Beyoncé's festival fashion over the weekend.
She may not have been headlining, but the annual two-day extravaganza in Philadelphia was still all about Yoncé and her regal presence in the crowd. Because the Grammy award winner didn't have a show to run, she turned her focus toward curating a perfect wardrobe, which included a gold grill, lots of bling, and more than one fanny pack.
Beyoncé posted an Instagram collage of her best festival looks from Labor Day weekend, starting with a sort of utilitarian-inspired one and ending with another with more bohemian flair. The first featured a half-unbuttoned khaki cargo top and satiny olive-green shorts. Paired with barely-there heels and a half-dozen diamond necklaces, a military motif never looked so luxe.
And because it's nearly impossible to dress for a fest without incorporating some variation of cutoff shorts and combat boots, the singer sported her Daisy Dukes the following day.
Although vastly different, her back-to-back outfits were tied together by a quintessential fest accessory: the belt bag, of course.
Ashya's burgundy Cedar Mini — one of the bags to come out of its Opening Ceremony collab — was the perfect match for Beyoncé's utility look, whereas the black Pana Pouch coin purse better suited her day-two moto boots.
Ashley Cimone and Moya Annece's belt bag brand was one of the first to make the '90s fanny pack chic when it unexpectedly became cool again in 2018. And even though the waist accessory has been a thing for some time now, Ashya is still on the rise. The label recently earned a mention in W Magazine's list of up-and-coming handbag designers to know and shop.
Beyoncé's favorite style is available by pre-order. Snag it (or a similar alternative), ahead.
Shop The Look