You'll Want To Copy Priyanka Chopra's Approach To The Belt-Bag Trend ASAP
Desiree Navarro/Getty Images Entertainment/Getty Images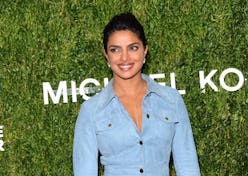 Fans of the fanny pack will be thrilled to discover that their favorite retro bags are gearing up for another big season this spring. The old-school accessory made an unexpected comeback last year, but it apparently won't be leaving the limelight anytime soon. That neon belt bag Priyanka Chopra just wore is proof.
A few bold designers resurrected the '90s fanny pack from its grave for a second chance on the runway during Spring/Summer 2018 shows. Moschino was, in fact, the first to re-debut the bag in 2012, but it wasn't until years later that the throwback accessory finally seeped into everyday street style.
Kendall Jenner, Kaia Gerber, and Bella Hadid were all about belt bags last year, but they were quite different from the ones you might remember your parents wearing during family vacations.
The models took a liking to elevated leather versions with dainty little belts they'd strap into the beltloops of their jeans. In an unexpected turn of events, fashion girls started wearing them on their shoulders like a crossbody, too.
Chopra's latest yellow version suggests what the fanny pack trend will be this spring. The actor wore an all-white ensemble on Tues., consisting of a basic tee tucked into cropped pants and a long white trench with neon lining that her belt bag matched.
Now that designers have dipped their toes into the water, it's about time to take belt bags to the next level and neon is almost always a fail-proof way to step up the couture factor.
The actor's quilted leather bag boasts that iconic rounded fanny pack shape and dazzling gold-toned hardware if you can see past the bright hazard-yellow hue. The statement piece is evidence that neons will uphold their influence this spring (and the latest collections by Versace, Emilia Wickstead, Off-White, and Prada seem to agree).
Chopra's latest look has confirmed that the fanny pack trend is more than just a fad. Now, go get yourself one in this bold neon shade.
Shop The Look