This Unexpected Accessory Just Earned Bella Hadid's Stamp Of Approval
Pascal Le Segretain/Getty Images Entertainment/Getty Images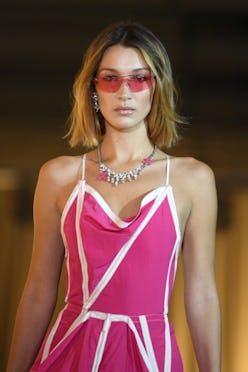 Try as hard as you may like, but it's near impossible to find a Bella Hadid outfit that isn't exceptionally (and oftentimes, unexpectedly) accessorized. The 22-year-old model is a fan of toppers of all kind, having been quite keen to the controversial, early aughts classic that is a bucket hat lately. But Hadid's pastel-pink blazer look just introduced a new essential for combating a bad hair day — and you probably have said piece hanging in your closet right now, too.
On Sept. 30, Hadid headed out for a busy day that likely included several Paris Fashion Week errands — the final leg of fashion month is officially coming to a close on Oct. 1, after all. For the outing, the 22-year-old model rocked an outfit that had so much dimension to it. From the poppy-pink blazer and coordinating button-down to the baggy jeans that were tucked into chunky, lace-up combat boots, it's clear this tastemaker isn't afraid of taking some major style risks — and combining them into a single getup isn't hard for her to do, either.
Although Hadid's latest off-duty ensemble makes a strong case for wearing pastel-pink hues well into the cold-weather season, and even goes to show how good said color looks when juxtaposed with edgier staples, like combat boots, there's one piece in her look that is likely going to be the most sought-after of all: her Yankees baseball cap.
Hadid has worn plenty of hats in her time, from fur bucket hats to a paperboy cap that harks back on the '70s, but this time around, it's a Yankees baseball cap that feels particularly down-to-earth and successfully jazzed up her Paris street-style look.
Aside from offering protection from the sun, which yes, is still important in the fall and wintertime, a cap is a great way to hide a bad hair day. Simply pull your locks back into a tight ponytail, throw on the hat, and you're good to go.
And, in addition to offering up an easy solution for when you just can't deal with your tresses, a topper like Hadid's infuses every look with a subtle dose of sportswear, too.
Ready to make like Hadid and rock a cool baseball cap outside of the stadium? Ahead, shop The Zoe Report's favorites, all in one place.
Shop The Look