Bella Hadid Perfectly Channeled The '70s With These $99 Jeans
Vittorio Zunino Celotto/Getty Images Entertainment/Getty Images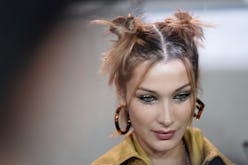 It's true: Bella Hadid is a '90s baby through and through. The model was born in '96, and as such, she grew up when many of these classic '90s throwback essentials were just getting big (aka, she's got some serious '90s pride). Nowadays, the 22-year-old plays favorites with plenty of signatures from the bygone decade, like hair clips, platform shoes, and hoop earrings, but it seems she's been, well, time-traveling a bit more with her style. That's right, Hadid's brown wide-leg pants prove this tastemaker is totally into the '70s right now, too.
Back in Jul., Hadid stepped out wearing a Dickies Girl pants and Converse outfit that harked on '90s style to a T — it was the ultimate throwback getup. Fast forward to Oct. 17, and the model just served up an ensemble that touched on the groovy, disco-inspired style of the '70s. In other words, she's a true style chameleon.
On Oct. 17, Hadid took to her Instagram to share a sweet snap of her looking into a mirror, smiling from ear to ear. That massive grin? Per the model's caption, she just took in the music wonders of Kacey Musgraves, alongside older sister Gigi. "Happy and sad at the same time🙃 best show best girl best snacks @spaceykacey thank you misss spacey 💛," Hadid wrote.
Draw your eyes away from her contagious grin, and you'll become mesmerized by her outfit, which is only slightly visible in the snap. The two key pieces the style set can't stop fawning over? Her mesh print shirt from Kim Shui, which features a cool marble pattern and elegant pearl buttons, and her brown corduroy flares from Australian-based denim brand, Rolla's.
Both pieces could easily cost an arm and leg, but as luck would have it, the top and the jeans are actually very affordable. The former rings in at a cool $198 while the latter is the under-$100 find sure to freshen up your denim drawer in seconds.
Hadid's Rolla's jeans, which won't cost you more than $99, sit high on the waist and have the perfect amount of volume from the knee down. They're wide-leg, but not so wide-leg that you feel like you're being swallowed up by fabric. What's more, they're designed in a classic brown corduroy that rounds out their '70s flair effortlessly.
The '90s and 2000s are going strong in the fashion world right now, but the '70s are quickly gaining ground. Try your hand at throwback dressing by shopping Hadid's $99 jeans, plus more like them, below.
Shop The Look