Bella Hadid's Latest Street Style Moment Is The Epitome Of '90s Fashion
JP Yim/Getty Images Entertainment/Getty Images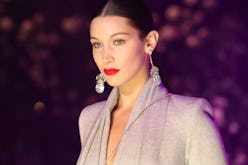 She may have only been three years old when the decade turned, but Bella Hadid is still a '90s baby through and through. You can tell it by the claw clips in her hair, the combat boots on her feet, and those oval sunglasses she never takes off — the ones that look like they were copped from the set of Clueless. Most recently, Bella Hadid paired her Dickies Girl pants with Converse sneakers and it was the most nostalgic outfit she's worn yet.
Yes, the bulk of Bella and Gigi's childhood took place post-Y2K. In fact, it's only been a handful of years since the supermodels have been out of high school. So, how is it that they both have '90s fashion so down pat?
You can almost picture the sisters poring over 15-year-old issues of Vogue in a shared bedroom while growing up, flagging every scrunchie and miniskirt for future outfit inspo. Now, they're putting their research to work.
In yet another throwback street style moment, the younger Hadid went out in New York City Tues. wearing old-school Converse, a crop top, and Dickies carpenter pants. Her ensemble was the epitome of TRL-era grunge, complete with oval sunnies, gold hoop earrings, and a chunky chain necklace.
The model even wore her hair in one of those tight, twisty updos you used to sport when you were in school. If you saw her on the street, you would have thought it was 1998. The resurgence of Dickies is no doubt to thank.
The '90s workwear brand made a major comeback in the fashion world in 2018, winning over everyone from Kourtney Kardashian to Justin Bieber. Hadid's latest rendition — canary-yellow carpenter pants by Dickies Girl — is proof that all you need is this old-school pant, a plain old crop top, and your go-to Converse to make a bonafide '90s outfit.
Bonus points for retro sunnies and a Louis Vuitton pochette. The pants you need to recreate Hadid's outfit, ahead.
Shop The Look