Miu Miu's New Collection Is All About This Unexpected Combination
Courtesy Miu Miu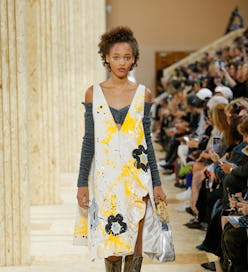 Miuccia Prada has historically marched to the beat of her own drum. The designer can be credited for championing many so-called "ugly" trends and is never one to shy from a fashion risk. But at Miu Miu's Spring/Summer 2020 runway show, Prada created a lineup of off-kilter, intentionally imperfect looks that didn't simply dictate a new set of style ideas. Instead the designer explored multiple paths in one show that allowed the viewer to embrace which felt most authentic to her. In Prada's world, that could mean the choice of a perfectly prim, peplum-top-and-skirt ensemble or it could mean a cardigan worn with buttons fastened askew. In her eyes, both are equal.
In what Prada herself calls "accidental beauty," the latest collection was stocked with contradicting ideas, further emphasized by creative styling: dresses were layered over the aforementioned gaping cardigans, colors clashed with abandon (and even joy), and for many of the finely tailored pieces, Prada created a raw-edged, unfinished version that walked the runway, as well. Some looks were left toned down and simply styled; others decorated with crystal broaches in true Miu Miu fashion.
"There is a provocation in the juxtaposition of unfamiliar concepts, unlikely couplings," said Prada in the show's notes. "Extremes of simplicity and complexity, the precious and the raw, minimal versus maximal, are combined at liberty. A new aesthetic is found through the undone, through the free."
In this new aesthetic — or perhaps, a purposeful lack of one — some key trends stood out as those most crucial to the next iteration of Prada's sister brand. There were painterly florals that detailed tall, lace-up boots, coats, and dresses. Big shoulders were popular on blazers and vests (and amplified further when worn with slim-fit trousers or sans pants at all). Pinafore dresses were the It layering piece over cropped cardigans with buttons awry. Meanwhile, lush ruffles were attached to dresses and skirts in unexpected and asymmetric locations. This detail played a star role for Spring/Summer 2020 in a more off-beat, rather than overtly saccharine way.
As for accessories, the collection included handbags with bamboo handles, flatform shoes with serious height, and pearl necklaces that more closely resembled a bunch of bundled necklaces knotted together. A Miu Miu-logo band also wrapped around the left wrist of each model who walked the runway. This detail was simple and unassuming, not unlike a black hair tie forever wrapped around your wrist
Despite the many ideas in the collection, Prada's exploration of fabrics, colors, and bold accents remained cohesive through the prevalent theme of workwear silhouettes throughout. Come spring, these ideas can be stripped down for the consumer and worn more plainly or can take inspiration from the styling of the show. After all, as Prada states, her collection is a "dialogue" between clothing and those who wear it, "the intentional and the impromptu, the serious and the playful." Consider these unapologetically imperfect ensembles an invitation to keep the discussion going.