Bella Hadid Just Dyed Her Hair A Totally Unexpected Shade
Elisabetta Villa/Getty Images Entertainment/Getty Images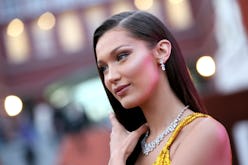 Spring is in the air, which means everyone is about to dye their hair lighter to match the weather. Leading the trend, of course, is Bella Hadid, who debuted a stunning dirty-blonde shade on Mon. You heard right: The model has returned to her golden roots just in time for the new season.
Hadid's latest Instagram selfie has racked up nearly a million likes in less than 24 hours. The photo is an especially popular one likely because it shows that the 22-year-old has swapped her iconic dark-brunette hair for a lighter, summer-ready hue.
"Back to dirty blonde, back to my roots!" she captioned the post, noting that the dark-to-light hair transformation was fashion photographer Mert Alas' idea.
The two are currently in Alas' home country of Turkey, where a sun-lit rock provided the backdrop for Hadid's recent photo. In it, she's draped in a Turkish printed textile and her new golden hair peaks out from a black beanie.
As you might know, she's been blonde before. In fact, the model was born with blonde hair, though not as light as her sister's. Hadid told Allure in 2016 that she dyed it darker to distinguish herself from Gigi Hadid in the first place.
"I just have a darker personality," she said. "I put a blonde wig on and think it would be fun to go back, but I'm happy with my hair."
Some might remember one of her blonde wig moments in Tokyo last April. During her trip, Hadid launched an Instagram account for her alter ego, Rebekka Harajuku, a blonde bobbed trendsetter with a penchant for hats. Now, a year later, she's seemed to succumb to the blonde cravings she's been feeling all along.
If you're feeling them, too, then maybe Hadid's makeover is a sign that it's time to give in. Channel the model and try out a dirty-blonde shade this spring. Ahead, a few products to help keep it on the light side.
Shop The Products