Why Beautyblender's New Primer Might Just Replace Your Morning Moisturizer
Beautyblender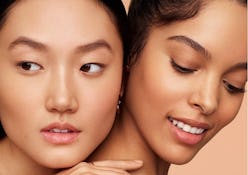 Every beauty buff knows the power of a great primer. A good formula will ensure your makeup stays put for the entire day, but a great one will go above and beyond by packing skin-perfecting benefits for an effortlessly flawless finish. And it's no surprise that a beauty brand dedicated to providing tools that achieve perfect results every time would turn out a series of primers promising your best skin ever — no matter your complexion. Beautyblender's new primers have arrived and they're about to totally transform your makeup routine.
If you count yourself amongst Beautyblender's dedicated fanbase, you've likely been enjoying its steadily widening range of product offerings — and eagerly anticipating its next drop. Now, the wait is finally over, because the skin-perfecting primers that Beautyblender's been teasing on its social channels officially landed at Sephora's site on March 4.
The ever-expanding beauty brand may have started humbly with one now-iconic makeup sponge but today Beautyblender boasts its own foundation, setting spray, and now, three different primers. And the brand made sure to think of many skin types and concerns when formulating the latest additions to its makeup collection — making it that much easier to find the primer that'll work best for your complexion and routine.
Those who struggle with drier skin, or anyone who longs for a luminous look, will want to snag Beautyblender's new Opal Essence Serum Primer, $32. The lightweight formula is packed with botanical extracts to moisturize, plump, and illuminate skin, so that your complexion looks lit-from-within and foundation goes on smoothly. It's so hydrating in fact, that one early reviewer has replaced her morning moisturizer with this opalescent priming serum before applying makeup. Sound pretty promising, right?
On the other hand, makeup mavens who prefer a matte finish are sure to fall in love with THE LEVELER Pore Minimizing Primer, also $32. The skin-smoothing primer, infused with niacinamide to soothe and even out your complexion, comes in two shades and instantly diminishes pores to create the perfect canvas for makeup. Plus, the high-performance silicones in the primer make for a humidity-proof barrier that eliminates shine and locks your foundation in place.
The $32 Selfie Shield™ Broad Spectrum SPF 38 Dry Oil Primer rounds out Beautyblender's new trio of primers and provides not only skin-brightening ingredients for a flawless face, but also packs a powerful protective punch. It's a weightless, fast-absorbing dry oil formula with 38 SPF to shield skin not only from the sun's UV rays, but also the light emitted by electronics — something everyone's exposed to these days. And with vitamins C and E to protect, smooth, and brighten skin, the primer will ensure your makeup looks pretty too.
Below, browse and shop the just-dropped primer from Beautyblender that's best for your skin — or maybe try all three.