Badgley Mischka's New Fragrance Will Make For The Prettiest Addition To Your Vanity
Badgley Mischka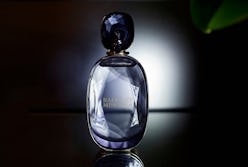 Above all else, a fragrance should be a celebration. It's a personal expression — an ode, even — that evokes a mood and a moment in time via precisely selected and layered scents. This idea rings particularly true for the new Badgley Mischka signature fragrance, which was unveiled this season to celebrate the glamorous brand's 30 year anniversary. And whether you've had the chance to don the design duo's beautiful fashions before or you've just admired them from afar, the fragrance is your perfect chance to join the party.
When Mark Badgley and James Mischka realized the 30-year milestone was quickly approaching for their namesake brand, the two designers immediately knew that they wanted to mark the occasion with a signature fragrance. Considering the power of a perfume to bring forth a certain state of mind, Badgley and Mischka couldn't think of a better way to package everything their iconic brand means to them than to bottle it as a scent and share it with the world.
But creating a perfume is much easier said than done; in fact, the process began about two years ago to ensure it would be ready for launch by the anniversary celebration. Badgley and Mischka teamed up with perfumer Richard Herpin to dream up the fragrance that would perfectly capture the brand's feminine, glamorous aura, starting with a unique scent that's particularly significant to the pair.
"Mark and I had a horse farm in Kentucky for about ten years that was full of magnolia trees, which became a sort of overriding theme of our house. The magnolia trees were just so fragrant, so beautiful, and so special to us," Mischka told The Zoe Report in an interview.
The rich, floral scent of magnolia became the basis for the perfume, and with Herpin's help, Badgley and Mischka went through 54 variations of additional fragrance combinations before getting it just right. "We told him we wanted to give it a little glamour and pizazz, and to make it sort of effervescent at the top," Mischka said.
Ensuring the fragrance is balanced and hits all the right notes is key — in this case, those notes are pink pepper, neroli, and iris at the top, with the magnolia and other feminine florals at the middle, and creamy sandalwood and musk rounding out the close — but Badgley and Mischka paid equal attention to perfume bottle itself, designing it to pay homage to the glamorous Hollywood spirit that has long captured the designers' appreciation.
The bottle is distinctly feminine, but that's not to say that it's by any means dainty. In fact, it feels quite sturdy, an intended result based on inspiration from Badgley and Mischka's collection of vintage crystal barware. "The bottle itself has a very substantial, old world feeling to it when you pick it up," Badgley noted.
The duo envisions that the beveled crystal bottle will become a centerpiece on the wearer's vanity. "We see this strewn across a woman's dresser as a collector's item because it is just so pretty to look at," Badgley said. "We're all about glamour and we're all about embellishment, and the way this bottle is beveled it reads like a beautiful crystal stone."
As for the lilac shade chosen for the crystal, Badgley and Mischka chose to pay tribute to a major source of inspiration for several of their collections: Elizabeth Taylor. The two recalled meeting the iconic Hollywood star before her passing, and marveling at the striking purple color of her eyes. "You always hear about it but you never actually thought it was true... but they really are that color. So we wanted to pay an homage to her," Mischka said.
When The Zoe Report asked the designers to describe the fragrance in just three words, Mischka quickly answered: "Elegant, glamorous, and fun." Not a bad way to be described, right? "It's the ultimate glamorous accessory and it's really made the whole experience that much more special," Badgley added. "Fragrance is a fun industry and it's an accessible way for women who maybe don't wear our clothes, for us to get involved with her and touch her life. It's been a really fun project."
To get your hands on the brand's celebratory new fragrance, you can preorder it now on Badgley Mischka's site, or head to Dillard's on Dec. 2 to snag a bottle at the exclusive in-store launch.