Proenza Schouler Launched A New Version Of The PS1 Bag & It's Right In Line With This Major 2019 Trend
Courtesy of Proenza Schouler / Stylist: Brian Molloy / Photographer: Thistle Brown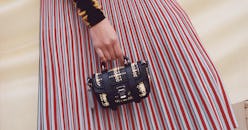 Mini bags may not be the most practical purse choice for day-to-day life — after all, some of them are even smaller than the latest iPhone models — but you can't deny that they sure are cute. And thanks to some of the most stylish designers, the of-the-moment miniature accessories can actually be downright chic. The latest launch to solidify the super-small handbag trend? Proenza Schouler's PS1 Micro, a shrunken-down iteration of the brand's most iconic bag. If you can't get enough of the pint-sized purses, look no further for your next fix.
New York-based ready-to-wear brand Proenza Schouler is known for many things, among them attention to detail, impeccable craftsmanship, and an ideal blend between highly refined style and a sense of relaxed, youthful ease. The brand is nearly always at the forefront of what's breaking next in fashion, and has a way of making sure its wares always feel fresh. So when it came to its classic, cult-loved PS1 bag, co-founders and creative directors Jack McCollough and Lazaro Hernandez knew exactly what they needed to do to give it an upgrade for 2019 — they miniaturized it.
The brand-new PS1 Micro is officially launching with Proenza Schouler's Pre-Fall 2019 collection, and is now available for pre-order on the brand's online store. And if you never really noticed how committed the brand is to nailing every detail, this new style will show you. The downsized silhouette, $995, is an incredibly accurate miniaturization of the cult classic handbag, complete with painstakingly replicated custom hardware and belted straps as seen across the rest of the PS1 family of bags (which now includes the new style, along with the Mini Crossbody, Tiny, Medium, and Large sizes).
And this teeny-tiny accessory, which also comes with an adjustable cross-body strap so you can tote it hands-free, comes in several different color ways that range from classic and timeless to completely on-trend. Score the Italian-crafted leather mini bag in sleek black leather paired with gunmetal hardware for an edgy, cool-girl effect, or grab it in Midnight, a deep navy shade that's featured with shiny golden clasps and buckles. But if you prefer a purse that pops, go for the silhouette in red corduroy suede or black and yellow plaid, both of which bring instant interest to any outfit.
As for the size, at 7 inches long and 6 inches tall it's got space enough for the bare necessities — think your credit card, ID, and metro pass, plus some cash and your go-to tube of lipstick. And for a night out with your girlfriends, do you really need anything else?
Keep scrolling to shop all seven shades of Proenza Schouler's new bag, and get your pre-orders in ASAP. It's estimated that they'll start shipping at the beginning of July, so snagging one now means you'll have yours to sport for much of the summer season and straight into fall.