The One Accessory That'll Up Your Summer Instagram Game ASAP
@alyssainthecity On Instagram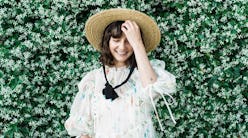 When you think of quintessential summer style, a few pieces likely come to mind: bright swimsuits, leather sandals, denim cutoffs, breezy dresses, cotton tops, and sun protection — aka hats. Aside from providing a respite from dangerous UV rays, the best (and cutest) hats for summer are a clever way to take your outfit up a notch. With next to no effort, they bring in fresh textures, colors, and sometimes even prints. And though they take a bit of strategic planning to pack away on vacation, you can easily style one for a slew of summer scenarios — weekend picnics, sun-filled beach days, and European holidays all included. In other words, they're a worthy investment for any summer wardrobe.
You've likely retired your beanies and felt-brim hats for the moment, and may be wondering which are the best hats to invest in for the warmer months of summer. "A floppy straw hat is perfect for the beach when you want to add some glam to your look," Avenue the Label Co-founder Jessie Shand tells TZR. The indie hat label has gained traction on Instagram as of late, and their straw topper with a black ribbon to tie around the chin is an instant cult classic. "The grosgrain ribbon can be secured under your neck ensuring that your hat doesn't blow away," she adds explaining not just the sartorial draw, but functionality too.
Hat Attack Creative Director and Head Designer Cooper McManus recommends two main styles for summer: straw and cotton. "A small to medium brim hat in straw or cotton is the easiest to wear when dressing for the day, whether you are in the city or at the beach headed into town," she tells TZR. "Stay natural in color so that you can wear it with different outfits. Try a novelty trim detail."
Shand also suggests experimenting with the season's trend-forward canvas bucket hat for a fun and youthful twist. "We love a bucket hat for when you're on the go. It's the ideal accessory to complete a casual, daytime look. Wear the peak down or flip it back," she suggests. An added bonus: it's easy to fit in your carry-on.
Ahead, see how Instagram influencers are embracing these hats for summer and shop your picks to (stylishly) stay in the shade.
Take your bucket hat styling up a notch and snag one in a splashy tie-dye print for a fun contrast to sweet tops and dresses.
The best way to complement your summer bikini is by way of a structured straw hat.
If you're going on a road trip this summer, try this simple yet classic look: ball cap, button-down shirt tied in a knot, and denim cutoffs.
Despite how adorable this plaid sundress is, it feels like an especially cute summer look thanks to the straw texture up top.
If you're a minimalist at heart but want to try out a new summer hat, wear your classic shirt and denim skirt combo with a timeless straw hat.
If you're in it for the 'gram, then grab an intriguing straw hat that will look at home among a field of grass and picnic items.
Grab a nylon bucket hat and sporty shorts for a fresh, youthful vacation look you can wear from beach to bbq.
If you're going for a borrowed-from-the-boys aesthetic with tailored shorts and leather accessories, toss in a summery straw hat for an element of surprise.
As previously mentioned, a novelty trim can completely transform a straw hat for summer — especially if it's gingham.