Ashley Graham's Makeup Artist Swears By This $13 Drugstore Blush
John Salangsang/Shutterstock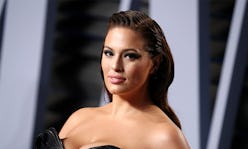 Although I've been a blush wearer for the majority of my adult life, I understand why it's such a divisive product. Blush can go wrong quickly if you aren't using the right shade for your skin tone, but happening upon that perfect hue isn't the easiest of tasks. That's why celebrity makeup artist Katie Jane Hughes resorts to a simple hack for natural-looking blush application — and she even used it on Ashley Graham ahead of Wed.'s American Beauty Star episode.
Graham, who hosts the Lifetime competition series, is certainly not one to shy away from bold makeup looks. "Ashley is such a chameleon with makeup," Hughes tells me over the phone as we're chatting about the model's look from the latest episode (think: a glitzy smoky eye and soft, envy-inducing flush created entirely with Revlon products).
Take one peek at her Instagram and you'll agree that Hughes is a bonafide expert when it comes to layering products. And it's not just her iconic dewy skin and glossy lids — Hughes makes even the basics look inherently elevated, blush included.
"I'm really loving blush at the moment," she says. "I think it's definitely having a comeback." And according to Hughes, blush can actually look quite natural — all it takes is a few pro tips.
"I often find when people put blush on themselves, they either use too much product or their foundation is too cakey to the point that it sticks to the skin," she explains. "They then rub it in too ferociously and make their cheeks red in the process."
Her solution? Using a demi-matte foundation (nothing too wet, she says) and sweeping a tiny bit of powder onto the cheeks before reaching for blush.
Once foundation is set, Hughes suggests combining multiple shades of blush to create your own, realistic hue. "There isn't one kind of pink, or peach, or nude in our cheeks, so whenever I do blush on anybody, I really use two or three shades," she says.
You can combine blush one of two ways, says Hughes. Layer them on top of each other directly on your skin, or dip your brush into each color before sweeping it across your cheeks. "I usually blend more of a neutral tone with a pop of pink or peach," she adds.
A blend of Revlon's Insta-Blush in Nude Kiss and Berry Kiss was the perfect combination for Graham, resulting in warm, natural-looking color at the apples of her cheeks.
If you've been hesitant to add blush to your makeup routine in the past, Hughes' trick offers an easy introduction. Her final advice? Have fun with it.
"It's just makeup and it does just wash off," she says. "I don't think everybody embraces the fact that makeup really is an accessory."
Ahead, shop the exact shades that gave Graham the perfect flush, along with The Zoe Report's favorite blushes on the market right now.
Shop The Look