Lily Collins Perfected The Art Of Glitter Eyeshadow — Here's How To Follow Her Lead
Gareth Cattermole/Getty Images Entertainment/Getty Images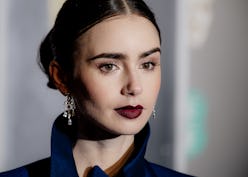 Who says adults can't incorporate glitter into their beauty routines? While the trend that's now emerging on the makeup scene might make you nostalgic for the toy palettes you had decades ago, celebrities are proving sparkly cosmetics are no longer just for kids. Lily Collins' glitter smoky eye is the perfect example.
After making her way down every red carpet of the season, the Les Misérables actor looked like a goddess on her latest shoot for Paper Magazine. The outlet posted a series of photos showing Collins adorned in pretty white lace and all-over feathers on Instagram, calling her "a modern-day Hollywood starlet" in the caption.
Her dazzling makeup lived up to the glamorous outfits, too, thanks to beauty magician Pati Dubroff. It's no secret that Dubroff — who was also responsible for Margot Robbie's dreamy blue eye at Sun.'s BAFTAs and Priyanka Chopra's metallic lids at the 2017 Met Gala — loves a bit of sparkle. This time, she put her love of glitter into Collins' cover look.
"This is actually one of my go-to eye looks, with various degrees of drama," she captioned her Instagram photo of the actor. "A taupe tone to define the crease and elongate the corners, and a pop of clear icy wet in (the) center."
"I went for more drama here so I added flashes of glitter and lots of black mascara," she added.
In another black-and-white photo from the day, she called Collins the "angel of Hollywood Blvd.," and that pretty much sums up the 29-year-old's saintly look. Dubroff opted for subtle contouring on Collins' cheeks and a rich berry lip gloss to top it off.
The look was dramatic, indeed, without being loud or gaudy. One thing it was not is childish. Collins' sparkly smoky eye was the ultimate grown-up version of glitter makeup. Recreate it using her makeup artist's steps and The Zoe Report's favorite eye makeup essentials, ahead.
Shop Eye Makeup