Ashley Graham Is Pregnant With Her First Child — Here's What We Know
Mike Coppola/Getty Images Entertainment/Getty Images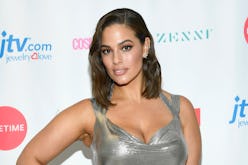 Summer 2019 has seen plenty of extra-cute Instagram posts, from Anne Hathaway's ultra-chill pregnancy reveal to Heidi Klum's dreamy wedding photos. But just when you thought it couldn't get any better (or more adorable), Ashley Graham — who's officially pregnant with her first child — blew up the 'gram Weds. morning with what's quite possibly the most perfect baby bump unveiling of the year. Get ready to smile ear to ear when you see how the model and her husband shared the exciting news with fans.
Early Weds. morning, Graham took to her Instagram to share a video of her and husband, Justin Ervin, talking about how to position their camera to capture the best selfie. But what initially appeared to be a simple attempt at capturing a photo of the two together turned out to be something much bigger and more exciting for the model's 8.7 million followers. After finally agreeing on an angle (both looked flawless, as per usual), the shot pans out to show Graham rocking a green T-shirt dress and a baby bump — wait, what?
"Surprise!" the couple exclaimed, before sharing an adorable kiss and lots of giggles about their pregnancy announcement. As if the video itself wasn't already heartfelt enough or the fact that this unveiling landed on the couple's ninth wedding anniversary — good timing, guys! — Graham also wrote the most touching caption to accompany the baby bump reveal.
"Nine years ago today, I married the love of my life. It has been the best journey with my favorite person in the world," Graham captioned the video. "Today, we are feeling so blessed, grateful and excited to celebrate with our GROWING FAMILY! Happy anniversary, @mrjustinervin ❤️ Life is about to get even better. 😘"
Ervin took to his Instagram to share the news, too, posting a sweet snap of him, Graham, and an ultrasound photo.
"To my forever love and my daily inspiration. Happy anniversary @ashleygraham," Ervin wrote. "These 9 years have played out like a lifetime. I guess it's because my life really started once you came into it. Now that we've made a life together, let's make a life together. I love you and I love us. All of us..." Commence the collective aww-ing.
This is Graham's first child, but there's no doubt the model is going to be serving up one killer maternity look after the other — and that stunning green dress she wore in the pregnancy reveal is just the beginning. Stay tuned!