Ariana Grande's Givenchy Campaign Video Will Brighten Your Day
Theo Wargo/Getty Images Entertainment/Getty Images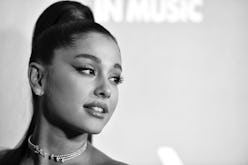 Ariana Grande's world-domination is still gaining steam. After breaking countless records with back-to-back albums Sweetener and Thank U, Next, the Grammy Award-winning singer is steadily earning stripes in the world of fashion. A few weeks after gracing the cover of Vogue for the first time, the 26-year-old landed a major deal as the face of luxury fashion house, Givenchy. Dubbed #Arivenchy, Ariana Grande's first campaign with the French label features 24 shots of the petite songstress decked out in a range of staggering pieces from the autumn/winter 2019 collection.
Donning her signature high ponytail and razor-sharp cat-eyeliner, Grande commanded the camera in an eclectic selection of arresting garments. From a floral-print, face-framing collared blouse to a structured green pantsuit, the spread delivers on both drama and sophistication, rounding things out with a crystal-embellished off-the-shoulder top with ample volume.
Showcasing the brand's faux-crocodile handbags and bedazzled sunglasses, Grande's strength and resilience is on full display, along with her whimsical tattoos courtesy of Brooklyn-based artist, Mira Mariah. And in addition to the stunning photo spread, the fashion house has now released a little behind-the-scenes treat for fans and fashion devotees. The playful clip, which was posted to Givenchy's Instagram and YouTube accounts, shows Grande on-set for the campaign, improvising on a vocal hook that loops throughout the minute-long snippet.
Sipping iced coffee and bopping to the beat, the natural comedian shows off her fun-loving spirit whilst modeling a range of looks before taking a seemingly-urgent phone call. "Just send me the bill," she jokes, as she dashes off set with a jacket and handbag. Jokes aside, Grande's palpable positivity despite life-changing tragedy is something to behold, and this foray into high fashion seems like a natural move for an entertainment mogul of her stature. It also happens to be a perfect fit, because Grande has named Givenchy's longtime muse, Audrey Hepburn, her "style icon" in the past.
Check out the fun clip above, then view a few of The Zoe Report's favorites from the campaign below.