You Can Find Ariana Grande's Go-To Makeup Remover At The Grocery Store
Michael Buckner/Variety/Shutterstock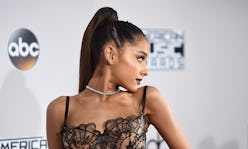 Since the release of Ariana Grande's latest album, Thank U, Next, the world has taken a deeper dive into everything from the singer's fallout with Pete Davidson to how she heals amidst unthinkable tragedy. It's safe to say Grande is laying it all bare, but aside from heavier subject matter, the album reveals lighter facts about the singer, such as which makeup products you might find in her beauty bag. "Highlight of my life, just like that Fenty Beauty kit," she sings on "Make Up." But what about Ariana Grande's skincare routine?
It looks like the 25-year-old is finally ready to spill her regimen , because a Twitter thread on Sat. revealed one little-known fact about her product lineup. In response to a photo with smudged eye makeup, fans began speculating around Grande's makeup removal process' and whether she takes it off before bed at all. Grande promptly assured fans that she does, and proceeded to namedrop a few skincare favorites.
After vouching for a pricy mask from La Mer, Grande admitted she isn't above a drugstore find, either. "I USE NEUTROGENA WIPES AND COCONUT OIL IF MY LASH GLUE IS BEING ANNOYING," the singer tweeted. The affordable skincare staples may come as a surprise, but Grande clearly knows not to fix what's not broken.
Grande is one of many celebrities who've adopted coconut oil into their beauty routine. Everyone from Gwyneth Paltrow to Gisele Bündchen has sworn by it, and Shay Mitchell revealed she regularly uses the holy grail oil on her hair and body. Despite hitting a fever pitch as the cure-all superfood years ago, the natural staple still holds a dedicated spot in kitchen cabinets and beauty vanities today.
If you want to keep it minimalist like Grande, grab a purified, 100 percent organic coconut oil. Otherwise, adopt coconut-based products into your rotation, such as a cleansing oil or a clarifying toner to keep skin squeaky clean.
After all, the entire Twitter thread began when Grande's fans pleaded with the singer to stop sleeping with her makeup on, which is the single worst thing you can do when trying to achieve a stellar glow. And thanks to The Zoe Report's roundup of coconut-based products, you don't have to worry about any dirt and grime left behind. Shop them all, ahead.
Shop Coconut Oil