Andie MacDowell On Fashion Industry Ageism: "I Thought It Was Over At 30"
Pascal Le Segretain/Getty Images Entertainment/Getty Images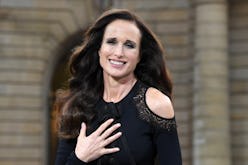 Andie MacDowell is a woman inspired. Though the model and actress, 61, has seen plenty of fashion in her day (she caused a stir at Saint Laurent Spring 2020), she admits that she does just as much people watching as she does spectating on the front row of top shows. "The streets of Paris are like eye candy, everywhere I look," she says at Le Défilé L'Oréal Paris on Sept. 28. "Can you believe it? I keep going up to people and asking where they get their clothes." But Andie MacDowell's beauty and fashion tips don't just consist of great moisturizing and good tailoring. It sounds predictable, I know, but it truly does start on the inside for her. It has to — especially in an industry that still struggles to embrace a wide range of ages and sizes.
"We're living in a world where we're supposed to be conscious of inclusivity and marginalized people. Mature women have been left out of fashion in the past," MacDowell, a L'Oréal Paris spokeswoman, tells me. "I started as a model. It was always this threat that it was over at 30, and that's a very short period of time. But the concept of how we look at women has changed. It's important to me to be represented in fashion because I am a mature woman. We're an important aspect, and it's important to have us."
That's why MacDowell, along with the likes of Eva Longoria and Helen Mirren, walked (or, err, ran), down the runway at the Monnaie de Paris, at the show broadcast to more than 40 countries worldwide. "It's really important to have women — mature women — represented in fashion. L'Oréal did it in the beginning and started this trend, which really isn't a trend." And as for the future, don't be surprised if you continue to see MacDowell rip the runway for seasons to come. "I love fashion," she admits. "So I feel like it's a natural connection for me."
Ahead, read more on how she got her start, why she refuses to stop, and the messages she's sharing with with her three children (Justin, 33; Rainey, 29; and Margaret, 24) along the way.
On Humble Beginnings
"When I was really young, people would tell me I should model. The seed was planted, and I started buying magazines. I grew up in a really small town in South Carolina, and nobody could afford to buy fancy clothes where I grew up. I wasn't really conscious of names in fashion until I moved to Paris.
"One of my first connections was Saint Laurent, and I did pictures with Helmut Newton. These are my early memories of what fashion is. I wore jeans and T-shirts. I would show up on the doorstep and they'd be dressed in all black with their red lipstick and would be like, 'Andie please just put on the lipstick.' I had a lot to learn. And I enjoyed it because I really like fashion."
Her Advice To The Next Generation
"I started here when I was 20. I was really surprised at how people were receptive of to me. In fact, I was so surprised that people wanted to use me that I worked every day. I worked so hard that I had to get extra pages in my passport. I was really enthusiastic, I was always on time, and honored. A lot of times, it has to be those kinds of [mutual] relationships. You have to be someone who is respectful and who generates that kind of energy."
On Aging Gracefully
"It's not only about making peace with it, but enjoying it. I feel exactly the same way with age. We've had this negative connotation connected to age for too long, as if it's something you should be embarrassed or ashamed of. As if it's something you truly have to fight against it. We need to be just like men. Men have always been embraced as they got older. We've given them the glory of being sexy as they get older... but not to women, though there's no difference. It's a psychological game that we have been playing with ourselves. Women need to take a stance against it. We have to love right where we are and have no shame connected to it."
The Advice She Gives Her Own Kids
"Sometimes it's not easy to love yourself. You have good days and you have bad days. Don't compare yourself to other people. Be an individual. Know that imperfections are perfection. They make you unique, but it's not always easy. It's an ongoing struggle to love yourself just the way you are. It's important to be comfortable in your skin. It's the body you get. This is it."