Jhené Aiko's Best Beauty Tips Include This Unexpected Kitchen Item
Cassidy Sparrow/Getty Images Entertainment/Getty Images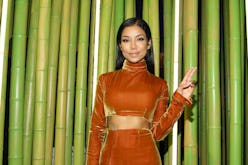 Not many people can say that they've had Jhené Aiko as a houseguest. And OK, technically, I'm not one of them — but I've played her music in my bedroom, bathroom, kitchen, and living room so much that she's basically an honorary roommate. Of course, I refrained from telling her this during our Sept. 18 interview in New York City, but she got just as personal with me on all things skincare, self-care, and more. Jhené Aiko's beauty tips are ones that don't just involve contouring and exfoliating (although she's a fan of both, for the record). As after-school-special as it sounds, the new face of Kat Von D Beauty's True Portrait Foundation knows that true beauty starts from within.
"I never thought of myself as a covergirl. I still don't," Aiko, 31, admits to me, blinking through her curled lashes. "I've been using Kat Von D Beauty for years now, so this feels natural. I love that in [its] campaigns, [the brand] constantly shows ladies from all different walks of life, with so many different looks." That representation is one that means much to Aiko, who is Black, Native American, Japanese, Spanish, Dominican, and Jewish. "My family is a smorgasbord of skin tones and ethnicities, so it's sometimes hard for me to find a shade of foundation that really works for my skin. I appreciate that it was so easy for me to find my shade, and that in the campaign the models featured look like real women. I definitely haven't always felt seen in beauty, but with brands like Kat Von D Beauty, that's changing." Another reason why the collaboration is a match? "I have a bunch of tattoos so that drew me in even more," she jokes about her parity to the brand's inked-up founder.
And while makeup will always hold a special place in Aiko's ever-soulful heart, it's self-care, music, and the ability to be vulnerable in the most tumultuous of times that truly keep the singer glowing. Keep reading for more of her secrets.
On True Portrait
"I love that it's liquid-to-powder so you really don't have to set it, it just does it's own thing. The formula is really a one-and-done," Aiko says. "Especially since it's frequently so hot in LA, it keeps me matte for hours. I have naturally oily skin so it's the perfect when paired with the Kat Von D Beauty primer."
And with a schedule as busy as Aiko, who's mom to 10-year-old Namiko Love, she she relies on the most trusty application tool there is to leave her skin looking airbrushed. "I applying it with my hand because the feel of the formula is so silky."
On Skincare
"I'm always experimenting with things. I like to mix together a lot of my own concoctions," she reveals. One of her proudest at-home skin expert moments came after a reaction to medicine left her covered in a rash. "I placed a ton of chamomile tea bags in a hot tub, added oatmeal and lavender oil, and soaked. Once I got out, I applied calendula and neem oil everywhere. So now I just use that on my body whenever I'm feeling sensitive."
Ironically enough, it's that affinity for creating her own formulas that's prepared Aiko for a skincare brand of her own. The upcoming project is one that she tells TZR is already in the works. "I want to create a skincare brand that's both natural and effective. I want the products to really work. I've actually started putting some things together, but you'll have to wait on that."
And even in the midst of her hectic schedule, Aiko is sure to keep three things consistent in her efforts to maintain blemish-free skin. "The most important things are washing my face at night, drinking a lot of water, and getting as much sleep as possible."
On Beauty & Ritual
"It all goes hand-in-hand. For me, sometimes it's as simple as sitting and reflecting. I believe that when you feel something, you should be still and allow yourself to fully process it all. But I like writing about my emotions, and with my music, it helps me get through things. Music helps me transform. I love channeling my feelings into my art."
On Vulnerability
It's no easy feat to bare your feelings to the world, but Aiko has done so exquisitely. Whether in interviews, in her songs, or on her social media accounts, she's seemed to master a level of vulnerability that's unattainable for many. However, Aiko charges us to document our feelings. "Start by writing it all down, that's what I do. The things that I would never say out loud I write it all down," she suggests. "And sometimes it's even hard to be real with myself and think 'Oh, this is really how I'm really feeling' and share it. Start by writing every way that you feel even if you're embarrassed, just share it, even if it's anonymously. Just put it out there because everybody is going through something and somebody is going to be able to relate."
Shop Aiko's Essentials: