Allswell Just Created The Perfect Product For People Who Like To Stay Cool When They Sleep
Courtesy of Allswell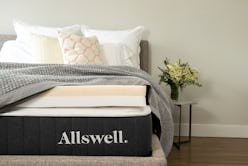 You're probably eagerly awaiting the heat of summer — after all, it signifies the arrival of languid pool days and luxuriously long backyard dinners with BFFs — but don't forget with all that fun comes a bit of a downside: Those hot, sticky nights spent tossing and turning when you can't stay cool in bed. Luckily, now there's a solution to the seasonal problem. The just-dropped Allswell Mattress Toppers don't just make your mattress that much comfier, they'll also help you keep your cool.
On May 21, direct-to-consumer mattress and bedding brand Allswell introduced something altogether new, and totally necessary for the upcoming summer season. Just in time for the hottest months of the year, Allswell launched a trio of mattress toppers specifically made for ensuring a cool night's sleep — while adding a layer of luxurious memory foam comfort to your bed.
After polling its consumers and learning that 85 percent of people said they've woken up mid-slumber because they were overly warm, Allswell set out to find the ideal materials for all those people (over half, according to the poll) that end up sleeping on top of their covers when they get too hot. Enter the brand's ingenious, affordably-priced mattress toppers, which seek to eradicate the problem at the root by increasing air flow and wicking away moisture.
You'll be able to take your pick between three tiered options, starting with the baseline option, the 3" Memory Foam Mattress Topper Infused with Graphite. The line's basic topper, $109 for a queen, offers a single layer of memory foam support that's infused with cooling graphite to transfer excess heat away from your body (yes, please). Or, take things up a notch with the 4" Memory Foam Mattress Topper Infused with Copper Gel, which adds a second layer of open-cell CoolFlow™ memory foam (for maximum air movement) and an injection of copper gel that boasts antimicrobial and cooling properties. It's available starting at $99 for a twin, up to $155 for a king.
Then there's Allswell's holy grail topper, which combines the cooling powers of graphite and copper gel into one four-inch, dual-layered memory foam cloud for maximum comfort. The CoolTouch™ Memory Foam Mattress Topper, Graphite & Copper Gel, $159 for a queen and $179 for a king, makes sticky summer nights a thing of the past with targeted cooling where you need it most — so go ahead and grab it now before temperatures really tick up.
If you were in the market for an entirely new mattress this Memorial Day Weekend (with all the sales, it's certainly a good time), consider adding one of these cooling toppers to your shopping list too. Below, see and shop all three to find your perfect match.