Why Algenist's Newest Launch Has Officially Replaced My Morning Moisturizer: Review
ImaxTree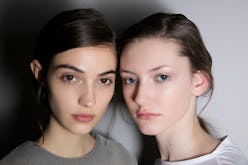 If I had to choose three words to describe my skin in the winter, they would be red, dry, and angry. The three words I wished described it? Dewy, soft, and calm. It feels like I've tried every "soothing" product on Earth to get it to that seemingly impossible point, to no avail — until I stumbled across a magical, unexpected combination when Algenist's new GENIUS Collagen Calming Relief fell into my life.
And I'm not the only one who loves it. The treatment, which has the consistency of a thick, velvety cream, launched on Dec. 4 for $58 and already has a near-perfect rating on Sephora and more than 700 "loves" from customers. Those reviewers seem to have the same experience as me: decreased redness and dryness, and increased softness. It's the kind of result that make you say "Wow — how does this thing work?"
According to Tammy Yaiser, the VP of Product Development for Algenist, a combination of the brand's tried and true ingredients and a few calming additions is what makes this formula so gentle — and so effective. "One of the key amino acids found in collagen helps act as a soothing agent, so we packed the formula with our Active Vegan CollagenTM, Collagen Amino Acids, Alguronic Acid, and powerful plant ingredients like Calendula, Edelweiss and Beta Glucan from oats," Yaiser tells The Zoe Report in an email. "They all work together to help soothe and calm in a lightweight, smooth and gliding cream texture, helping to provide a feeling of immediate comfort and relief, while working in 10 days to reduce visible signs of aging in a formula appropriate for all skin types and skin textures."
And as for the redness relief it provides? "We evaluated numerous ingredients to use and avoid for this formula to help deliver the calming, soothing benefits that our customer wants and needs," says Yaiser. "The formula is full of soothing plant oils, and when combined with our Active Vegan CollagenTM and patented Alguronic Acid, all come together to help fight visible signs of redness and signs of stress-induced aging like dryness, tightness, and the look of redness associated with rough, dry skin."
Of course, as most people with red, sensitive skin know, it often takes a cocktail of formulas to get real results, which I discovered was the case for me with Algenist's GENIUS Collagen Calming Relief, too. However, when I layered it over Dr. Barbara Sturm's Calming Serum and Avène's Hydrance Intense Rehydrating Serum in place of my normal moisturizer, I noticed shockingly fast results — in just a few minutes, my skin had calmed down and was nearly redness free — a feat that I don't think I've ever experienced. It stayed that way for the duration of the day.
Though I only use this as a daytime moisturizer (it's not quite strong enough for me to use at night), Yaiser does have suggestion for those wondering how they can incorporate this product into their evening routine to reap the benefits day and night.
"The lightweight absorbing texture of Calming Relief makes it an excellent full face treatment or spot treatment for targeted areas," she explains. "For even more moisture at night, GENIUS Sleeping Collagen is a wonderful complement as a night cream or sleeping mask, which will help give the ultimate soothing and nourishing experience around the clock."
You can shop Algenist's new GENIUS Collagen Calming Relief on Algenist.com, Sephora.com, and in store at Sephora on Jan. 4.