Alexander McQueen's Newest Bag Is Already Supermodel Approved
Courtesy of Alexander McQueen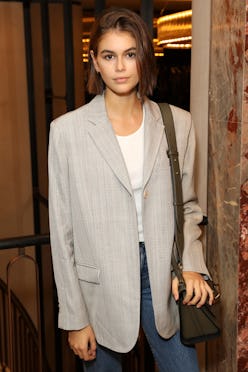 The industry is no stranger to its regular rotation of It bags. After all, it only takes a quick scroll through an Instagram feed or a fashion website to instantly identify the select handful of styles everyone seems to be wearing. And when there's a particular piece that starts popping up among the likes of A-list celebrities and top models, chances are it's already on its way to being a must-have staple. A prime example, the Alexander McQueen Story bag has been seen on the industry's favorite fashion girls. And it's about to be everywhere.
This past year has seen its fair share of mini and micro bags (as well as their oversized counterparts), but Alexander McQueen is taking a more practical approach as it moves into 2020. Available for $2,190, The Story is a timeless calfskin bag that'll go seamlessly with any ensemble. Featuring an adjustable leather crossbody strap, a leather top handle, and a brass handle on the front, the new bag can be worn in several ways, making it a versatile option in anyone's closet.
You can pre-order The Story on the luxury label's website in two color ways: black with red lining and fuchsia. The other two colors, red and Kaia Gerber-approved khaki green, have already sold out — which only speaks to how popular this bag is about to be.
Gerber, who was spotted wearing The Story during fashion month this fall, isn't the only one who loves the brand's latest handbag design. Fashion icons like Naomi Campbell, Selena Gomez, Charlize Theron, and other stars from all corners of the industry were seen wearing the bag earlier this year, effortlessly proving that it can be worn for any sense of style.
Now that The Story is officially available to buy, you finally have the chance to make the supermodel-approved bag your own. Take a cue from Gerber and wear it for a day of errands with a pair of casual jeans, a T-shirt, and a blazer. Or, if you have a more formal occasion to attend, opt for an all-black ensemble of trousers and a cool jacket, like Campbell.
Courtesy of Alexander McQueen
Courtesy of Alexander McQueen
No matter how you decide to wear this classic, everyday bag, there's no doubt that it'll get an ample amount of wear as soon as you add it to your wardrobe. And if you're ready to do just that, scroll down and shop Alexander McQueen's The Story below.