The Micro Bag Trend That's Taking Over Instagram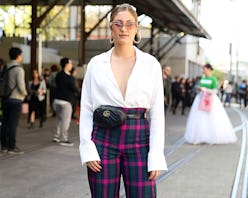 Sure, our sneakers might be getting chunkier and our jewelry less delicate, but there's one accessory that's shrinking by the minute: handbags. For decades, we toted around top-handle bags, drawstring iterations, wicker designs, and even the hobo made a short comeback, but this season's biggest bag trend isn't so big at all; in fact, mini iterations are taking the market by storm as this season's standout accessory — and the smaller handbag silhouette isn't going anywhere for fall, either.
"The little bag carries a big punch this summer!" says Neiman Marcus's SVP and Fashion Director, Ken Downing. "The biggest mini bag trends we are seeing [now] are crazy colors, patterns, prints, and most importantly, embellishment," says Downing, who cites dimensional flowers, embroidery, seashells, tassels, and even fringe as the top trends this season. And lest you think the fanny pack craze is going anywhere, you can rest easy: "The little bag looks darling with day dresses and fun for after work, says Downing, who recommends a hands-free option that can fit your keys, phone, and a couple of credit cards.
The Outnet's Head of Content, Claudia Mahoney, has found a similar pattern among micro bags recently, citing embellished bags as one of the top trends of the moment. "This season, we're [also] seeing the trend to layer up mini-bags across the body, wearing more than one bag at a time, allowing the wearer to play with different colorways and textures and, on a practical level, be able to carry more than just her phone and keys."
We called upon five additional seasoned pros — we're talking everyone from the merchandising director at Fred Segal to a top LA stylist — to help us navigate the micro trend by picking their favorites. Ahead, find the industry vets' picks and shop 'em before they sell out.
Ashley Petrie, the Merchandise Director at Fred Segal, is also a champion of small bag: She credits the "new wave of minimalism" for the silhouette's popularity. "We're now seeing this across the spectrum from Fendi to Jacquemus and even trickling down into mass retailers such as Zara and stores alike. By the end of the year everyone will be carrying a version of miniature on their arm." Even more, Petrie says that the little bag has transformed from a "going out" staple to a casual everyday wardrobe essential. "This is the new effortless."
If you're in the market for a tiny bag, too, heed Downing's advice: "With the continued popularity of the clutch as the fashion girls go to handbag, the mini bag is the designer's response to the need for a compact bag with lots of look."
LA-based stylist Sarah O'Connor loves a circular straw crossbody bag to complete an outfit. "You can take it to the beach and then bring it out at night," she says. "Also, because most of them have hard shells, they're great for traveling."
Mahoney uses pure logic to justify a micro bag purchase. "Large bags may be practical, but they're also cumbersome. Small bags keep the silhouette of a look clean and minimal, and they can also be hugely practical," she says, pointing to the hands-free element of crossbody styles.
If you've spent even a nanosecond scrolling Instagram this summer, you must be familiar with KAYU. The sustainable bag brand's founder and CEO, Jamie Lim, says the trend to go smaller isn't even close to over. "Mini is still everywhere and currently, in all shapes from buckets to circles. We love small bucket bags like this for the summer!" Make yours work for fall by opting for a navy colorway.
"From micro to mini, these small handbag silhouettes are offered in chic handhelds or compact crossbody bags" Elizabeth Kanfer, fashion accessories director at Nordstrom, assures us. She continues, "One of the biggest trends is the use of natural materials such as straw, whicker, and raffia." We cannot argue with Elizabeth's logic as she states, "The versatility and convertibility of the small bags is key! Small backpacks for day can turn into a crossbody for night; small belt bags can be worn at the waist or across the chest. Small bags are appropriate for any occasion."
If you're feeling in the mood to make a fashion statement, a fanny pack —er, belt bag — is the way to go. "The belt bag has had a major resurgence in both athletic and more refined styles," saysErica Russo, Bloomingdale's Vice President and Fashion Director of Accessories and Beauty. "Whether you wear it slung across your chest or around your waist, the belt bag gives you the ultimate hands-free flexibility."