Alexa Chung Found The Perfect Accessory To Elevate Your Music-Festival Looks
Pascal Le Segretain/Getty Images Entertainment/Getty Images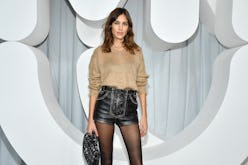 Forget the headliners; Alexa Chung is hands down the highlight of Glastonbury year after year. The British writer takes her festival fashion very seriously, and now especially because last year's hiatus deprived her of her annual weekend of glory. Alexa Chung's 2019 Glastonbury debut featured a croc-effect bag and it was the real MVP.
On the third official day of the festival, the celebrities came out to play. Chung, as well as Sienna Miller, Suki Waterhouse, and more showed up for Bastille, The Lumineers, Lauryn Hill, and the rest. But, like Coachella, Glastonbury is just as much about making a fashion statement as it is about the music.
Chung's inaugural outfit did not disappoint, of course. She showed up to the farm on which it's held wearing a flowy white peasant dress with black leather boots (the ultimate cool-girl combo). She took the opportunity to promote her new partnership with British outerwear brand Barbour, too, sporting an ivory trench coat with gingham that she designed herself.
Any fashion girl would have recognized her crossbody off the bat. Like every other influencer you follow on Instagram, this trendsetter has gotten her hands on Chylak's cult croc-effect bag.
This past spring, Harper's Bazaar reported that the Polish brand's ever-popular bags had amassed a wait list 15,000 people deep. Approved by the influencer crowd and celebrities (like Adriana Lima) alike, the bags are beloved not just for their chic design, but also for their attainable price tags.
While she's certainly no stranger to four-figure bags from Miu Miu, Edie Parker, and Louis Vuitton, Chung's coveted stamp of approval on this under-$400 croc-embossed shoulder bag means the world to a budget-conscious girl. It's made of glossy mahogany leather, cotton lining, and a short, trend-forward underarm strap.
Luckily, you won't be number 15,001 in line for this festival-ready accessory because it's available now and ready to be taken home by a pseudo influencer like you.
Shop The Look