Sienna Miller's Music Festival Hairstyle Is Worth Copying All Summer
Amy Sussman/Getty Images Entertainment/Getty Images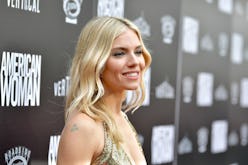 Festival season might be winding down stateside, but across the pond, the fun has only just begun. Glastonbury is the British version of Coachella and your favorite English fashion girl Sienna Miller is there sporting her best festival hair. You'll be apt to copy this lazy-day updo all summer long.
It's the UK's turn to show the world what they've got in terms of festival fashion circa-2019. Alexa Chung, Suki Waterhouse, and Dua Lipa are just some of the familiar faces participating in this year's revelries. London-raised Sienna Miller wouldn't have missed the spectacle on her own home turf for the world.
She showed up to Friday's revelries wearing the coolest, and no doubt most comfortable, festival getup. Miller sported a loose-fitting white linen jumpsuit with a bright cherry-colored robe coat, and Sorel boots.
Something about the aesthetic made it seem like she had just rolled out of bed (in the best way). The messy bun helped, too.
The actor pulled her blonde hair back into the unkempt updo we all wish we woke up with every morning. It was loose and untidy, gathered at the top of her head, with chunky, wavy pieces hanging down around her face. Every lazy girl's ideal style, basically.
Miller, in her slouchy jumpsuit, robe-like layer, and tousled hair, fully committed to the festival's chill vibes. The actor oozed casual coolness, and you would, too, with a no-big-deal bun like that.
The best part about intentionally messy hairstyles is that they're usually easy to recreate. Second-day hair? Great. Bedhead? Even better. Put your bad hair habits to good use with one of these disorderly updos.
No matter how unsavvy you are in the hair department, this style will prove to be failproof. Just follow these steps with The Zoe Report's favorite hair products, ahead.
Shop The Products