The Long-Weekend Getaway That'll Leave You Less Stressed In 2019
Patiwat Sariya/Shutterstock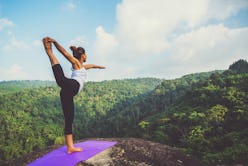 If 2019 has you looking for a refresh of body, mind, and soul, consider this: A change of scenery and a bit of self-reflection can help you start the New Year right. Whether you're looking to kickstart a new healthy routine or you're finally ready to make a move in your career, taking some time to unplug and gain fresh perspective can help you set your resolutions into motion. Luckily, there are quite a few rejuvenating and affordable wellness retreats that deliver the reset you need without hurting your 2019 budget goals.
The idea of planning relaxing excursions is hardly a new one, but it's been picking up traction in today's plugged-in world. "Since the time of the Roman baths, people have traveled for the purposes of health and relaxation," says Sarah Stocking, the Lonely Planet destination editor to Mexico and California. "Wellness tourism is the fastest-growing travel sector, and Lonely Planet wants to highlight that 2019 is all about self-care, whether that takes the form of yoga retreats in India, hot spring resorts in Australia, or Buddhist meditation temples in Korea." (If relaxing getaways are your thing, pick up Lonely Planet's book, Wellness Retreats, featuring over 200 destinations for every zen style.)
The holidays are over, and now is the perfect time to hop onboard this 2019 travel trend. Think you can't afford it? Stay tuned. Ahead, you'll find a handful of budget-friendly trips to help you reset, whether you're happiest hanging ten or meditating in lotus pose. After all, you'll breathe easier on a trip that fits within your budget, right?
Reconnect With Nature
Head to The Lodge at Woodloch in Hawley, Pennsylvania for an outdoorsy retreat. For $319 a night, you'll be able to unplug and unwind from the stresses of city life.
"Less than three hours from New York City, The Lodge at Woodloch is the perfect place to decompress and renew your relationship with Mother Nature, thanks to its more than 500 acres of trails and forests," explains Stocking. "Consider forest bathing, a Japanese practice in which all staff at The Lodge at Woodloch are trained. It's known to lower blood pressure and cortisol levels in humans. Other activities to try include tennis, kayaking, fly fishing, and bird watching."
Unleash Your Adventurous Side
Adrenaline junkies will forget about stress at this Instagram-worthy surfing destination. Catch some sun, salt, and surf at the Hotel Alaia in Punta de Lobos, Chile, where room rates are as low as $214 a night.
Beginning in February, you can book the Yoga + Surf Adventure on Chile's Coast retreat through SIX Travel's new worldwide retreat offerings. (SIX Travel is a newly launched hotels booking platform that lets travelers book hotels directly through Instagram Stories.) "Situated a three-hour drive from Santiago in the bohemian beach town of Pichilemu, [Punta de Lobos is] Chile's best kept secret," explains a representative for the site. During the retreat, bookers can enjoy, "a week of surfing, sunrise and sunset yoga classes, evening beach music sets, sea-to-table dining, and the Colchagua Valley wine region nearby to explore."
Find Your Zen
Get in touch with your spirituality at the Sivananda Yoga Ranch, an ashram in Woodbourne, New York. For a mere $130 a night, you'll feel extra-zen knowing you won't blow your budget. Short on time? If you're within driving distance, consider planning a relaxing weekend getaway.
"At Sivananda Yoga Ranch, visitors practice not only hatha yoga (relating to physical postures), but also karma yoga and the yoga of good works," says Stocking. "While it isn't a requirement, there are plenty of important volunteer tasks to go around: cooking, cleaning, gardening, sweeping the temples and more. Have some free time? Do explore the nearby Catskill Mountains (which, incidentally, Lonely Planet named one of the best regions to travel to in 2019)."
Get Your Health On Track
For a truly unique way to jump-start your wellness resolutions, book a stay at the Villa Stéphanie in Baden-Baden, Germany. Spend seven health-filled nights at this all-inclusive resort for €2,900 (about $3,290 or $470 a day).
Although it's the priciest getaway on this list, the amenities and inclusions featured in this package prove it's a steal. "For state-of-the-art medical facilities and world-renowned specialists, look no further than Villa Stéphanie," says Stocking. "Here, visitors have access to cardiologists, physiotherapists and even orthodontic dentists. The focus is on preventative healthcare, with programs like kickboxing and strength training. Baden-Baden is Germany's most famous spa town, offering a host of cultural activities like contemporary art at the Museum Frieder Burda and music festivals in the fall."
Indulge In Some Pampering
If mud baths and massages are your idea of luxury, the Indian Springs resort in Calistoga, California will be your paradise. Stay for $220 a night and plan to get pampered.
"The hot springs in Calistoga have drawn visitors since the Wappo people built sweat lodges over steam vents 8,000 years ago," explains Stocking. "For those seeking the ultimate pampering experience, check yourself into Indian Springs for a mud bath and mineral water soak, followed by a deep tissue massage you'll be dreaming about for months afterwards. It's the perfect jumping-off point for exploring the vineyards of Napa Valley, where you can wake up early and take in the sunrise from a hot air balloon."
Become Inspired
If the stresses of life have you feeling uninspired, visit an exotic locale and surround yourself with other creatives at The Storyteller Within retreat in San Marcos La Laguna, Guatemala. For $1,795 (which is $225 a day), you'll get an all-inclusive, eight-night refresh to get those ideas flowing. The next event starts at the end of June, but for those seeking a spark, it's worth the wait.
"Set in guesthouses on the beautiful shores of Lake Atitlán, this women-only retreat focuses on self-exploration through writing," says Stocking. "The workshops have been described as nothing short of 'transformative,' nurturing feelings of genuine sisterhood among guests. In the evenings, you can practice yoga or experiment with sound healing and other local Mayan traditions."